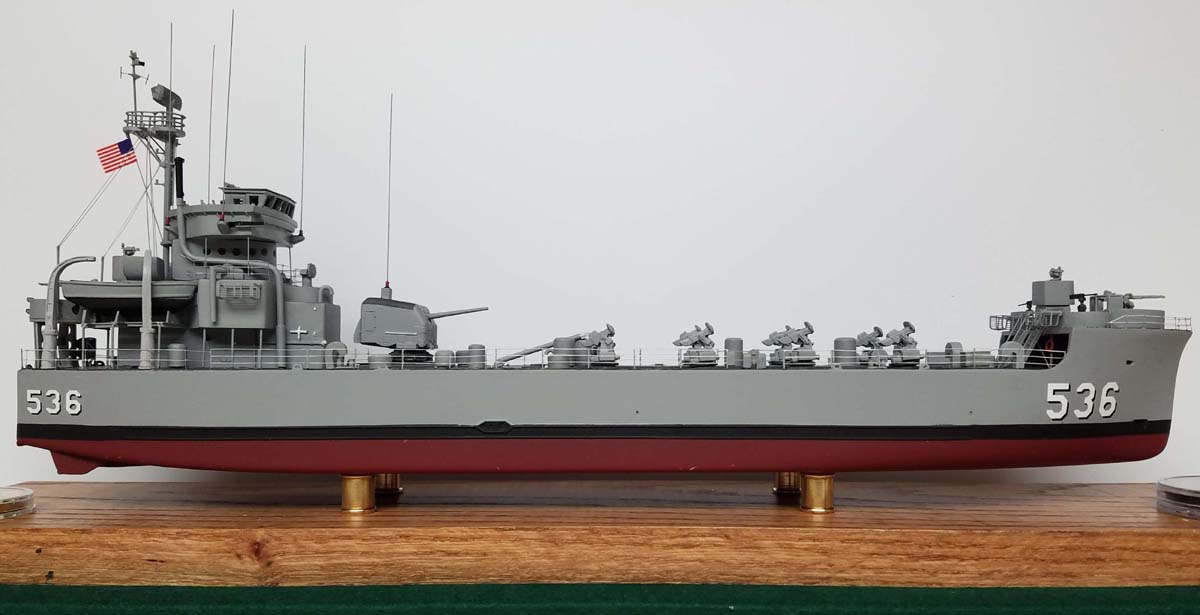 1/144 USS White River LSMR-536 (Revell/scratchbuild)
This is a conversion of the 1/144th scale Revell LSM kit into the USS White River, LSMR-536. I built this for a friend who served aboard the ship during the Viet Nam War. LSMR-536 was one of the 'Ultimate LSMRs' intended for the invasion of Japan, but was still under construction at Brown Shipbuilding of Houston, Texas, when the war ended. The 536 has been also been referred to as one of the LSMR 501 Class. The 501 class was so named to distinguish it from the so-called 401 class of Ultimate LSMRs that were built by Charleston Naval Shipyard. She was commissioned on November 28, 1945 and decommissioned July 31, 1946. She was brought back into commission on September 16, 1950 for the Korean War. On October 1, 1955, LSMR-536 was renamed USS White River. She was decommissioned again September 7, 1956. She was returned to commission on October 2, 1965 for service in Viet Nam. On January 1, 1969, she was redesignated as an Inshore Fire Support Ship (LFR.) On May 22, 1970, she was decommissioned for the final time and sold for scrap. Originally, LSMR-536 was armed with one 5"/38 gun, ten Mk 102 rocket launchers, two dual 40mm Bofors, four twin 20mm guns, and four 4.2 inch mortars. Later, two Mk 102 launchers were removed, and all 20mm guns and 4.2 inch mortars were removed.

The conversion of the Revell kit was extensive, requiring homemade resin castings for the following: main deck and fixtures including Mk 102 launchers, superstructure, fantail bulkhead, mast details, and a new bow. The hull of the 536 was based on the LSM hull, but the profile of the 536 bow was significantly different. I built a master of the new bow and then cast a resin casting for use on the model. One time-consuming task was filing down the side rubbing strips and constructing new rubbing strips using .040 inch half round styrene strips, which were relocated about .125 inch lower on the hull. Hull lifelines are PE from Tom's Modelworks. The equipment bins on the focsle and superstructure are PE that were made for me by Hauler of Czech Republic, who have always been of immeasurable help whenever I need to create drawings for PE. I used a number of the deck fittings from the Revell kit to detail the model, such as lockers, bitts, and fire hose stations. The bow and fantail 40mm guns were scavenged from 1/144 Revell Bundesmarine LSM kits. 3D printed parts included two Mk 51 gun directors from diStefan and the 5"/38 from Model Monkey. Antennae are .015 inch piano wire. Hull numbers are from Hawk Graphics. The flag is from Floating Drydock. The deck surfaces were painted with Model Master Schwarzgrau RLM 66 Acrylic. Supports for the hull on the base are brass lamp couplings from the local hardware store. The lower hull was painted with a homemade mixture of hull antifouling red.
John MacKay
---
Gallery updated 4/18/2021


© ModelWarships.com