USS New York LPD-21
by Carl Musselman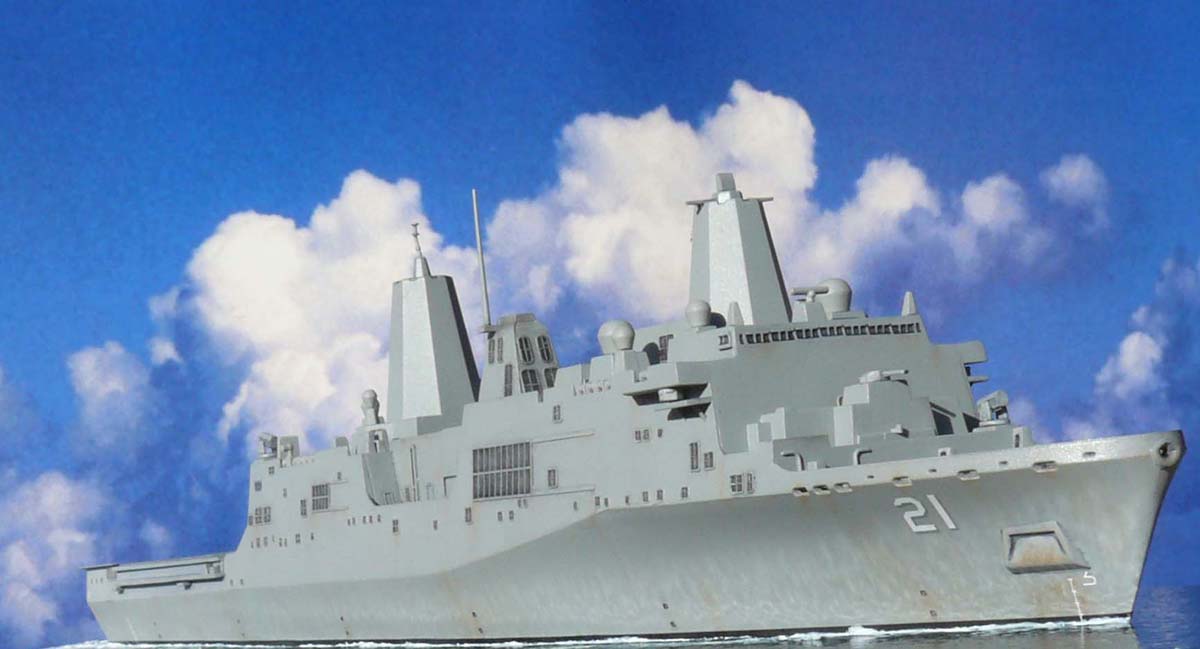 1/700 USS New York LPD-21 (Cyber Hobby)
The new Cyber Hobby USS New York is a really, nice and fun kit to build right out of the box. I chose not to embellish my model with any aftermarket accessories; and all that probably could be added might be some railings here and there, but the real ship didn't have many.

The superstructure pieces fit together really well. The only problem that I had was with the domes' guide pins fitting into their associated guide holes. Each hole had to be enlarged to accommodate the pins.

I chose not to display the aircraft and LCAC with my model.

I use Model Master Acrylic Paints: Neutral Gray for the vertical surfaces and Gunship Gray for the decks. I weathered the decks a little with black and olive drab pastels and added a few rust spots to the hull with pastels, as well. The sliding doors on the starboard side and all of the louvered panels were filled in with CITADEL black wash after the initial Neutral Gray was applied.

Although it is a dimensionally, inaccurate model and lacks a lot of the details of the real ship, as talked about in my comparison review of this kit and the L'Arsenal resin kit, the Cyber Hobby kit makes a terrific rendition of the USS New York and is a clean and easy model to build. Some modelers will like the option of the lower hull and propellers for a full-hull display. The optional aircraft and vehicles, along with their decals, are another great option that others will enjoy.

Carl Musselman
---
Gallery updated 2012


© ModelWarships.com