USS Nevada BB-36
by Jeff Sharp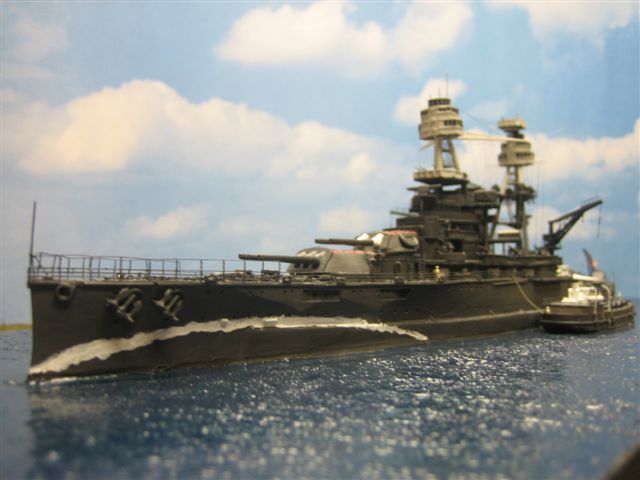 1/350 USS Nevada BB-36 (ISW)
This is the USS Nevada as she appeared at 08:00 on December 7th, 1941. I based the model off of a photo taken by one of the Japanese airplanes as it flew over Battleship Row. If you look closely, you can see that photo captured a lot of detail of what was going on aboard the Nevada at the start of the attack.
With this bodel I tried to capture as much of that detail as possible. I painted the Model in MS-1/5 using 5-D and 5-L and adding a false Bow wave. I also painted her decks in the yet to be proven theory of 20-B (deck blue). The Nevada was the second ship of Bat Div 1 so I painted the top of her first two turrets Red and her last turret White.
Looking along the Starboard side of the ship, Nevada was moored to the Northern most mooring quays F-8. Each quay had boarding ramps for the crew to catch the next motor launch to the Navy Yard. On this morning the launches were also bringing sailors from others ships over to attend the Catholic services. In between the two quays was a covered workshop barge YF-???. I could find no documentation as to why this barge was was alongside the ship or what it's number was. The large boat crane on the ship was hanging out over the barge so I am assuming that they were bringing aboard some sort of supplies.
At the stern of the ship the band was playing the Star Spangled Banner as the morning colors were being raised.
Along the port side of the ship the garbage lighter YG-17 had just pulled alongside to collect the ships garbage. On the quarter deck a large awning was erected (probably for the morning's church services) and further aft was a huge movie projector screen that entertained the crew the night before.
The USS Nevada was the only battleship to get underway during the attack which attracted the attention of many Japanese bombs. She managed to get as far as Hospital Point before she was forced to run aground so she wouldn't sink in the Harbor's entrance channel.
---

© ModelWarships.com