USS Pennsylvania BB-38
by Paul Helfrich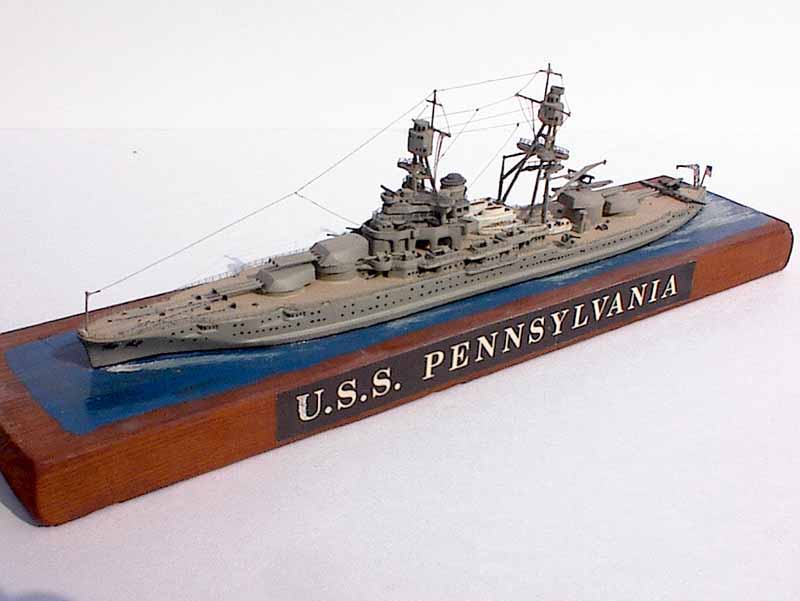 1/720 USS Pennsylvania BB-38 (Revell)
This is the old Revell kit of the USS Pennsylvania, BB-38. It's the same 1/720 molding Revell has been selling for years as the USS Arizona - in fact, in recent years, it's been marketed exclusively as the Arizona. But in this vintage 1969 packaging (see photo of original box top) it was issued as the Pennsylvania. This molding is still on the market from Revell Germany, as the Arizona.
Sidebar: I don't understand why they don't do this more often anymore - for instance, I don't know why they don't put out their old Massachusetts kit as the Alabama, since both ships are preserved as museum ships. Perhaps that, too, was done in the distant past.
But I digress. The kit is really much closer to the Arizona than the Pennsylvania. I made some small modifications to the bridge area to make it appear more like the Pennsylvania, but the differences circa 1940-41 were really pretty subtle, especially in this scale. Here the ship is shown in pre-war overall light gray, rather than the Measure 1 scheme she wore at Pearl Harbor in December 1941.
An interesting thing about the box art: it shows the Pennsylvania shelling some snowy mountainous coastline. This is clearly meant to show the ship supporting the Aleutian campaign of 1943, the re-taking of Attu and Kiska islands. But by then, the Pennsylvania had been re-fitted and modified, losing her tripod mainmast and adding 5" 38 dual purpose secondary armament in the standard twin turrets. The box art shows the ship in her pre-war outfit, like the kit. It's just a little creative license, representing the ship in one of its historic campaigns, but picturing it as you get it in the kit, not as it really was.
I just completed a conversion of another 1/700 Arizona to the Pennsylvania, but this time in her circa 1944 late war appearance. Photos of that one to come soon.
---

© ModelWarships.com