USS Pennsylvania BB-38, 1916
by Paul Helfrich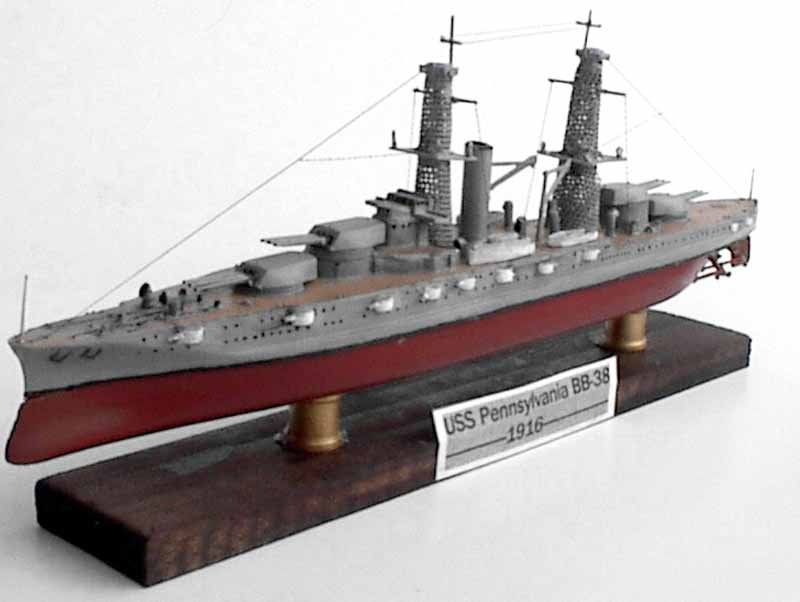 1/720 USS Pennsylvania BB-38, 1916 (Revell-Germany kitbash)
This is the third and final installment in my series of different builds of the battleship USS Pennsylvania, BB-38. For this one, I've shown the ship as she appeared in 1916, six months after commissioning. It's a kitbash of the Revell Germany 1/720 Arizona kit.
I've previously done a 1/720 Pennsylvania as she appeared in the late 1930s, with her tripod masts, and a 1/700 Pennsylvania as she appeared in 1944, with her post-Pearl-Harbor modifications.
To do the Pennsylvania in 1916, you have to strip everything to the main deck, move the casemate guns down a deck, add cage masts, and add the old fashioned ventilators. It is frankly easier going back in time than forward, as you don't have to worry about adding all the AA guns that proliferated in the WWII era.
She now joins my USS Delaware BB-28 in my fleet of American WWI dreadnoughts. I just got a set of plans for the USS Florida BB 30 and am looking forward to starting that one soon, too.
---

© ModelWarships.com