BB-43 USS Tennessee transits
Pedro Miguel lock, Panama Canal 1937
by Chris Smithers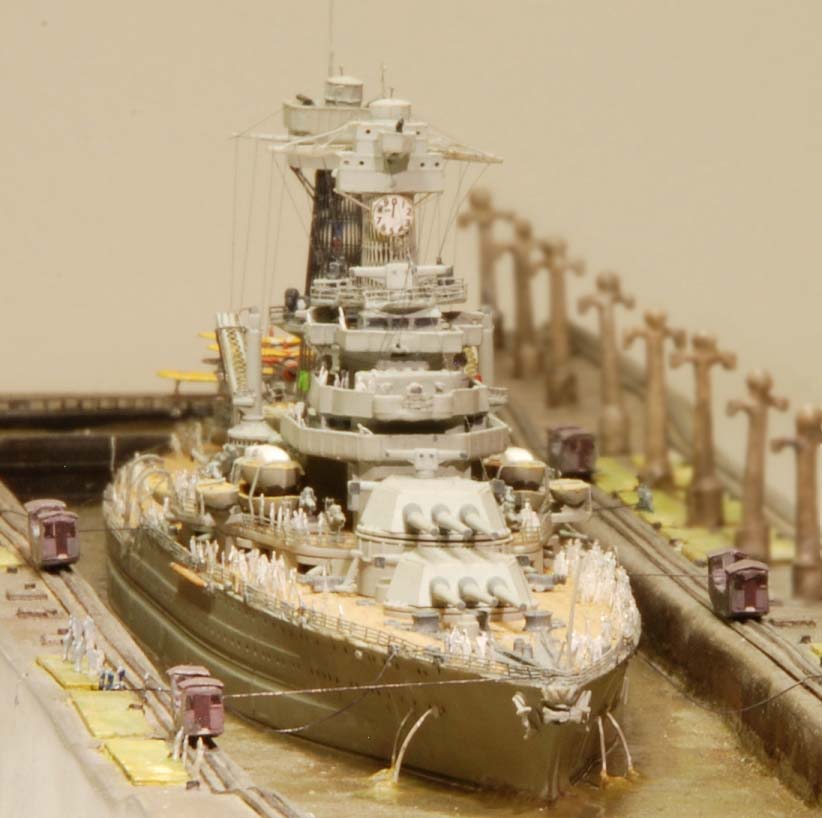 1/700 USS Tennessee BB-43 (Trumpeter)
I love the appearance of the US 'standard' battleships with their lofty cage masts, spindly smoke stacks and clipper bows. I wanted to put the ship in an appropriate setting – the Golden Gate Bridge at San Francisco was tempting but unrealistic in dimensions even with a part span because of the air draught above the ship. A mooring at Ford Island, Pearl Harbour, seemed a bit obvious and hardly interesting – just a triangular lump of concrete. The sea is just – well – the sea. Appropriately, I got the inspiration for a lock on the Panama Canal while I was cruising on a narrow boat and in a lock on the English canal system. Now – wouldn't that be an interesting project to research and construct? It certainly was and now I know more about the Panama Canal and its infrastructure than I ever knew I wanted.



I back dated the Trumpeter BB-44 USS California of 1941 to the appearance of her sister ship BB-43 USS Tennessee in 1937. A top-class model from Trumpeter, it's accurate in all respects and finely detailed. Even the 5-inch AA guns were sufficiently good not to be replaced with after-market versions which I had to hand in case. Backdating the model to represent her appearance pre-war mainly involved modifying the bridge structure, changes to the ship's boats and their positions and replacing the Vought Kingfisher floatplanes with Trumpeter Curtis SOC Seagulls. All in all it was a fairly straightforward conversion involving no particular difficulties. The wooden decks were from Blue Ridge Models (the first time I've used such a product) and very easy to apply; the accuracy and fit was amazing, even around fairleads and bollards and other deck fittings. Railings and PE fittings were from Gold Medal Models. Rigging is Caenis monofilament – tricky stuff but still my favourite. Paints were from Sovereign Hobbies (lightened some 10 percent to compensate for scale atmospheric distance) and household emulsions. Of interest is that the kit contains sprues for a West Virginia/Colorado class 16-inch battleship, which is a very clever way of keeping down tooling costs and making this an affordable product.



The lock chamber and all associated structures, including the 'mule' tram engines for towing the ship, were scratch built. Fortunately there's a wealth of technical information on the internet about the Panama Canal locks which I used to make the construction drawings. I built up quite a collection of photographs of a variety of US Navy ships using the canal during the inter-war period which helped me understand how the ships were manoeuvred. They also gave a strong flavour of the atmosphere and the behaviour of crews and onlookers. Unlike today, the locks seemed to be accessible to the general public who could enjoy a picnic on the lock-side lawns while being awed at the ship passing through.
---
Gallery updated 12/6/2022


© ModelWarships.com