USS Maryland BB-46 1941
by Todd Renner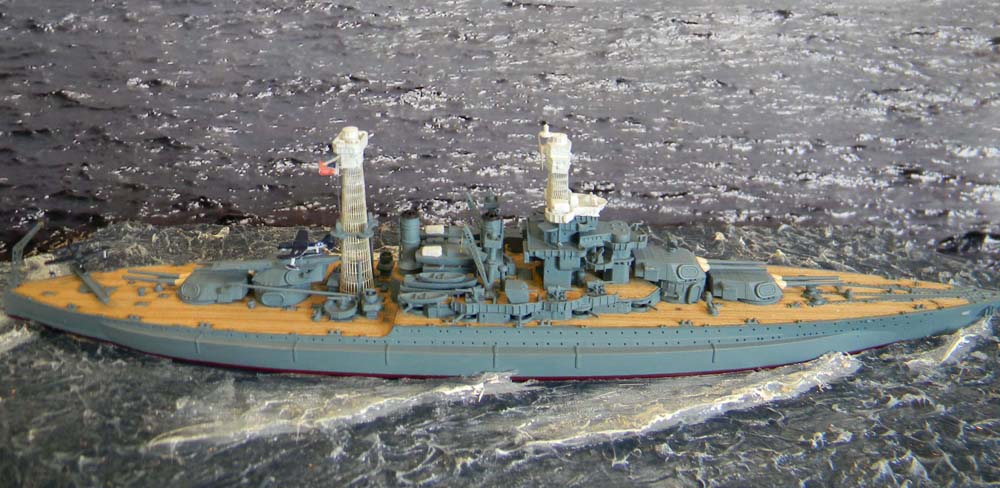 1/700 USS Maryland BB-46 (Trumpeter)
I used to build models of all types as a kid, and, living in Maryland, I always wanted to build the state's namesake battleship. When Trumpeter released this kit and I saw the awesome wood decking available from Artwox, I was hooked. (They didn't have stuff like this when I was a kid.) At any rate, the model was a delight to construct and the fit and finish out of the box was excellent. The only problem was my eyesight is not as good as it once was, and I think I prefer the 1/350 scale better for this reason. I never constructed a diorama like this before, and YouTube was a Godsend. I bought an unfinished wooden sign at the local hobby store (Michael's or Hobby Lobby) and then finished the sides with polyurethane stain before make the sea effects on the top.
For history buffs…the USS Maryland was part of the Colorado class and was launched after the end of World War I. She served as fleet flagship for a while and survived the required cuts imposed by the Washington Treaty. The "Fighting Mary" was inboard of USS Oklahoma next to Ford Island at Pearl Harbor on the morning of 7 December 1941. She took a bomb hit to the bows and was credited with shooting down several raiders. After a quick repair job stateside, she stayed on station on the West Coast in the scary days of early 1942 (think 12 September 2001) before heading into battle supporting amphibious assaults. USS Maryland was second in line at the last battleship-on-battleship encounter at the Battle of Surigao Strait in October 1944.
An unsuccessful attempt to have her interned as a museum ship was followed by her scrapping in 1959.

---
Gallery updated 2013


© ModelWarships.com