USS South Dakota BB-57
by Ed McDonald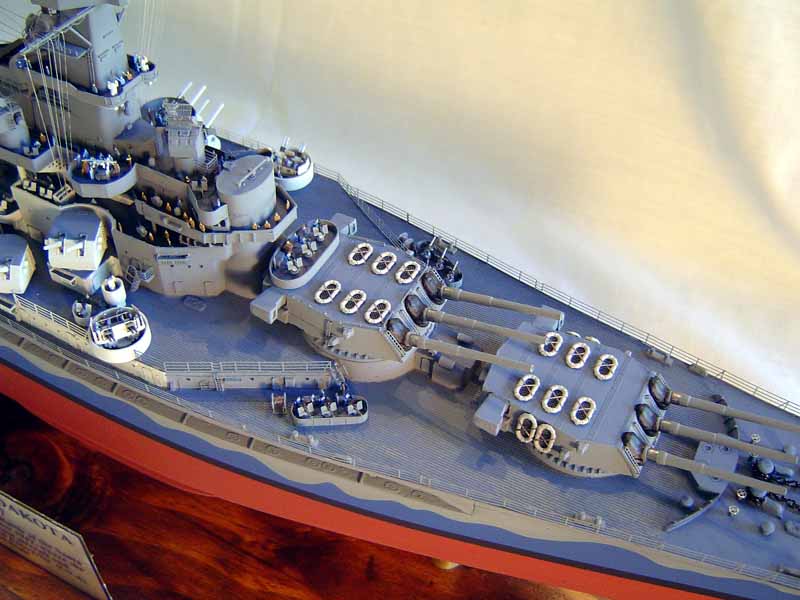 1/350 USS South Dakota BB-57 (Yankee Modelworks)
This is USS South Dakota BB-57 as she appeared and as outfitted at the Battle of the Santa Cruz Islands on 26 October 1942 where she shot down 26 Japanese aircraft, a record for a single ship in a single battle in WWII, and proved the worth of the battleship.
This model was built from Yankee Model Works excellent resin South Dakota kit. The kit was designed for 1945 and considerable effort was required to back date it to 1942.
Considerable reworking and redesign of the superstructure.
Elimination of many 40mm guns and tubs.
Replacement of five 40mm guns and tubs with 1.1 inch guns (WEM photoetch).
Replacement of several 20mm guns with 50 cal Brownings (WEM photoetch).
Complete redesign and relocation of 20mm guns and shields throughout the ship.
Addition of the two boat cranes.
Relocation of the mainmast and addition of the mainmast tripod platform.
Backdating of all radars (WEM "early WWII radars" photoetch set).
Additionally, surplus plastic 20mm gun bodies from a Tamiya Missouri kit were used in place of the supplied photoetch gun bodies and the supplied metal Kingfishers were replaced with WEM resin and brass Kingfishers. Also, a wide range of GMM photoetch was used for details throughout.
The painting is based mostly on a single photo of the starboard side taken in October 1942 near noon on a cloudless day. That photo shows an obviously much lighter color on the superstructure areas that are pale gray on this model. Common logic says that an MS 12 ship should be blue and gray. But the light areas in the photo are much lighter than the blue areas of the hull. I'm not sure anyone has figured out exactly how South Dakota was painted in 1942. But, this is just my shot at it. There are very few photos and the few that exist are generally quite poor quality. Resources were slim but another single aerial photo of the ship alongside repair ship Prometheus provided most of the deck information. Photos of sister ship Alabama preserved in her memorial in Mobile, provided information on many of the small details.
---

© ModelWarships.com