USS Alabama BB-60
by Ed McDonald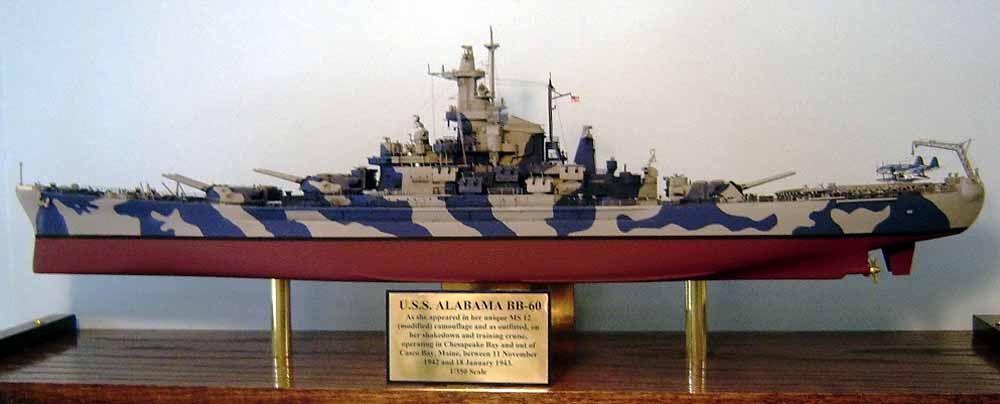 1/350 USS Alabama BB-60 (Yankee Modelworks)
This is USS Alabama BB-60 as she appeared during her shakedown cruise between 11 November 1942 and 18 January 1943. This is the only period during which she wore her unique MS 12 camo. She was repainted during her post-shakedown overhaul in January 1943.
The starting kit for this model was Yankee Modelworks resin 1944-45 Alabama. It has been quite a chore to back date that model to 1942. I began work on the kit just before the new Trumpeter Alabama 1942 kit was announced. The information below details the changes required to back date the Yankee kit to 1942. It also discovers some errors in the Trumpeter kit. I have not yet built the Trumpeter kit, so I can't be certain. But based on photos I have seen of that completed model, the items indicated in bold below should point out errors in the Trumpeter kit. Read on if you are interested in really understanding how Alabama was equipped while she was painted in MS 12.
Added several hatches to the main deck
Added 2 bits on the fantail just fwd of the plane crane
Modified stern 40mm tubs to have 1/4" circumference openings
Removed molded in boat cradles
Modified molded in large vent aft of #3 turret to be two parallel vents
Modified plenum chamber behind breakwater to match photos
Removed 20mm shields from aft 02 level
Removed 03 level shields aft of flag bags & replaced with rails
Removed all molded in 20mm ammo lockers since very few worked for the 1942 fit. Eventually added spare Trumpeter plastic ammo lockers as required
Discarded and completely replaced 03 level midship gun platform (part R17) with scratch built replacement to match 1942 config.
Relocated midship 02 to 03 level inclined ladders to match photos
Added scratch built shields and platforms in triangle area far aft on 01 level
There is a basic design flaw in the Yankee Alabama kit. The support structures for the midship MK37 directors, the angular supports molded into the 04 level (part R4) and the after edge of the 03 level needed to be vertically aligned. They were off by as much as 1/4 inch. Several steps were required to fix this issue.

Removed portion of 04 level catwalks (part R4) aft of the flag bags and added scratch built and wider catwalks to allow inclusion of the midship ladder well (otherwise absent from the kit) and to provide a properly located base for the MK37 support structure
Removed molded in MK37 support structures from the 04 level (part R4) and replaced with scratch built supports and support post
Discarded and completely replaced midship 05 level (part R20) with scratch built part in order to complete alignment of the MK37 supports and to modify the area for its 1942 appearance
Added 05 level catwalks each side of stack

Removed 03 and 04 levels forward Mk 51s and tubs
Alabama had two bridge configurations in her life – an early war open bridge and a late war enclosed one. Despiite the fact that the kit claimed to be a late war version, it included an early war bridge design. Much less work than expected was required here – only the removal of forward 05 level shields,
Added scratch built support structures for 05 level 40mm tubs
Added exterior support braces to all MK 51 tubs
Relocated stern MK51 tubs per 1942 config
Added forward 05 level MK51 tubs and support structures
Added scratch built support structures for aft 03 level MK51 tubs
Removed all platforms from aft conning tower and added detail per 1942 config
Discarded parts R8, R9 & R10 (08 level forward tower platform) and replaced with scratch built platform to match 1942 config
Added ships horn and siren, platforms, pipes etc. to sides of forward tower
Added small platform at 08 level to aft end of forward tower
Added appropriate 1942 config ladders to forward tower
Relocated forward tower searchlights to match 1942 config
Added 4 scratch built pipes to sides of stack in their 1942 config
Added 40mm tubs #3 and #4 (main deck aft aside superstructure) without guns. Although several drawings and models exist that include guns in these tubs while Alabama is also painted in MS 12, this was never actually the case. Due to a shortage of 40mm guns, Alabama went on her shakedown cruise with no guns installed at these locations. They were installed during her post shakedown overhaul, when she was also repainted.
Added scratch built single 20mm tubs on main deck alongside of aft superstructure, per 1942 config
Added scratch built double 20mm tubs on main deck alongside fwd superstructure per 1942 config
Added scratch built triple 20mm tub on 01 level starboard forward per 1942 config
Added scratch built double 20mm tub on 01 level port forward per 1942 config. Note that all actual photos of Alabama while she wore MS 12 indicate different 20mm gun configurations port and starboard - 3 guns starboard but only 2 portside.
Added scratch built 20mm shields on forecastle
Added floater net baskets per 1942 config
Corrected infamous and repetitive error in the YKM kit's instructions. The 4 blade screws should be inboard and the 5 blade screws outboard.
Added scratch built triple 20mm tubs on turrets #2 and #3
Added life rafts and cable reels per 1942 photos
Added scratch built main mast tripod
Discarded tower top level 011 (part R24) and replaced with scratch built part
Added scratch built masts (fore and main) per 1942 config with SC radar on foremast
Replaced Mk22 radars with MK4s from Toms Model Works
Added SG radar on forward tower top level 011. Photos show something here that looks like an SG. And, this location is typical for an SG on battleships in 1942.
Numerous other scratch built details were also included.
---

© ModelWarships.com