DKM Bismarck, 1941
by Pavel Lupandin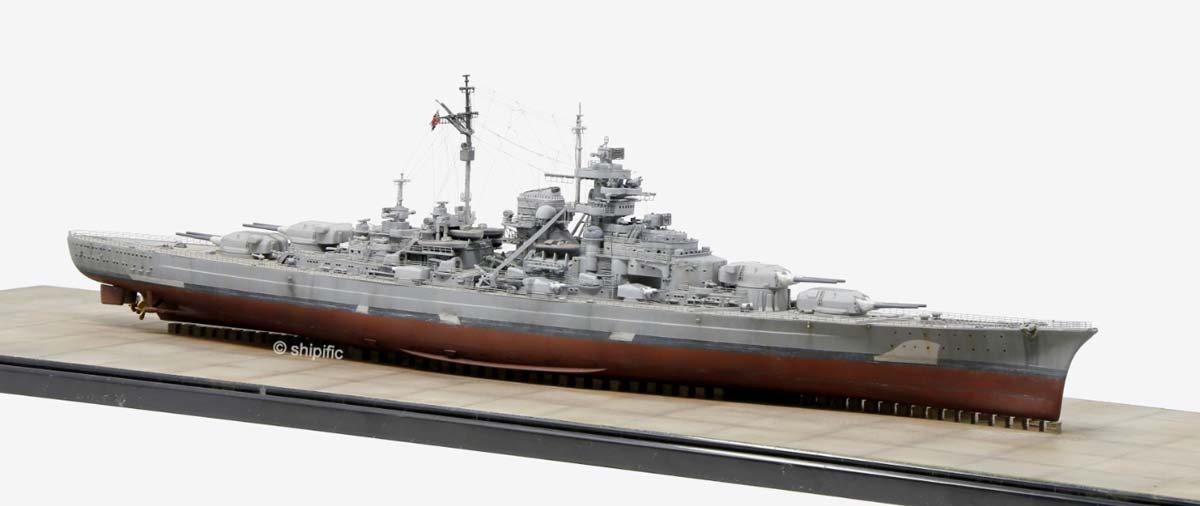 1/700 DKM Bismarck 1941 (Revell)
This submission of battleship Bismarck (May 1941 fit) completes my Battle of Denmark Strait quartet build in 1/700 scale, yet this was the first ship I built in high detail in my collection, back in 2017. It came to me from a friend, who started it but did not complete and it was meant to be built as a wreck diorama. I quickly got stuck in it and felt that doing it with PE first time was a good practice while I was getting back into the hobby.




Result is here - I kept refining this model over a year, experimenting with color scaling, getting the right feel for it. It has some things that make it not perfect - I kept the masts in plastic and wish I did not, but this is something I learned from in my future builds. The tungsten wire is quite demanding on what you attach it to!




All paints were custom mixed, as I used Tamiya. Painting the showing-through Baltic stripes was a particular challenge, but I did like the result - the ship looks pretty clean as it should, with some very light weathering. Guns were from Aber, and PE were from Eduard, blast bags scratch-built with putty. Chose to keep the boats off the deck, removed the flagstaff and bow anchor and few other small details like that, yet I left the railing on for visual impact (I believe they were folded for battle).




Peter Beisheim's excellent model gave (see pics for comparison) gave me quite an inspiration and in fact took me down a rabbit hole of naval modeling to a point where it became a little more than just a hobby. I owe all my improvements to that inspiration, book by Leon and Asmussen on camouflages and this gif of a model from Revell. At the time, Flyhawk was making submarines (one in fact is shown next to Bismarck) and PE sets, and it was way before its own Bismarck offering. Back then Revell's model was best on the market.




Despite being my first try at super detailing a 1/700 ship, for me I ranks pretty highly especially in terms of painting and having the looks and feel of a real thing.




Hope you enjoy the pics and the comparison to Hood, PoW and Prinz Eugen presented as well.









Pavel Lupandin
---
Gallery updated 3/11/2022


© ModelWarships.com