DKM Gneisenau
By Vlad Cimpan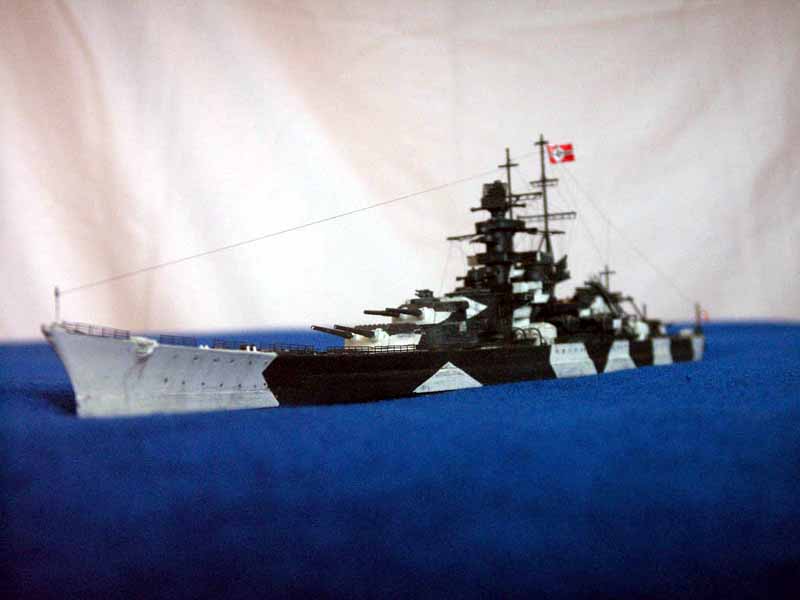 1/700 DKM Gneisenau, 1945 (Tamiya/Trumpeter)
The model represents a fictional version of the DKM Gneisenau as she might have appeared if her reconstruction involving a lengthened bow and 38cm guns had been completed.
I built the lengthened bow by grafting the bow section from the Trumpeter 1:700 Tirpitz kit onto the Tamiya 1:700 Gneisenau hull. I tried to blend the join line better by using filler and adding strips of paper taught along the armoured belt before sanding and painting the hull a base coat of light grey.
Obviously, the 38cm turrets from the Tirpitz were used on the build. In addition, I took a little artistic license with the secondary battery, based loosely on the drawings in the Breyer book. These show the single 15cm guns removed and all the twin 10.5cm guns replaced with high angle 12.7cm. The turret for these is very similar to the one for the twin 15cm however, so I used the parts from the Tirpitz kit, to give the ship a proposed secondary battery of 20 12.7cm DP guns.
I also used numerous other parts from the Trumpeter Tirpitz kit as they are better moulding than the Tamiya ones. Most obvious are the 3.7cm guns, rangefinders and searchlights, as well as a number of additional 2cm "Flak-vierling" AA mounts. In the pictures these parts are clearly distinguishable by the fact they are a lighter colour plastic. I also used the WEM Scharnhorst/Gneisenau PE-fret to detail the ship.
The paintwork was airbrushed on and the swastika is from the Tirpitz kit. I used white and dark grey coloured pencils to bring relief detail out. The dark pencil was used on the deck to bring out the planking and to create smudges and dirt on the white patches of the camouflage. The white pencil was used to simulate wear and salt stains on the dark sections of the ship.
---

© ModelWarships.com