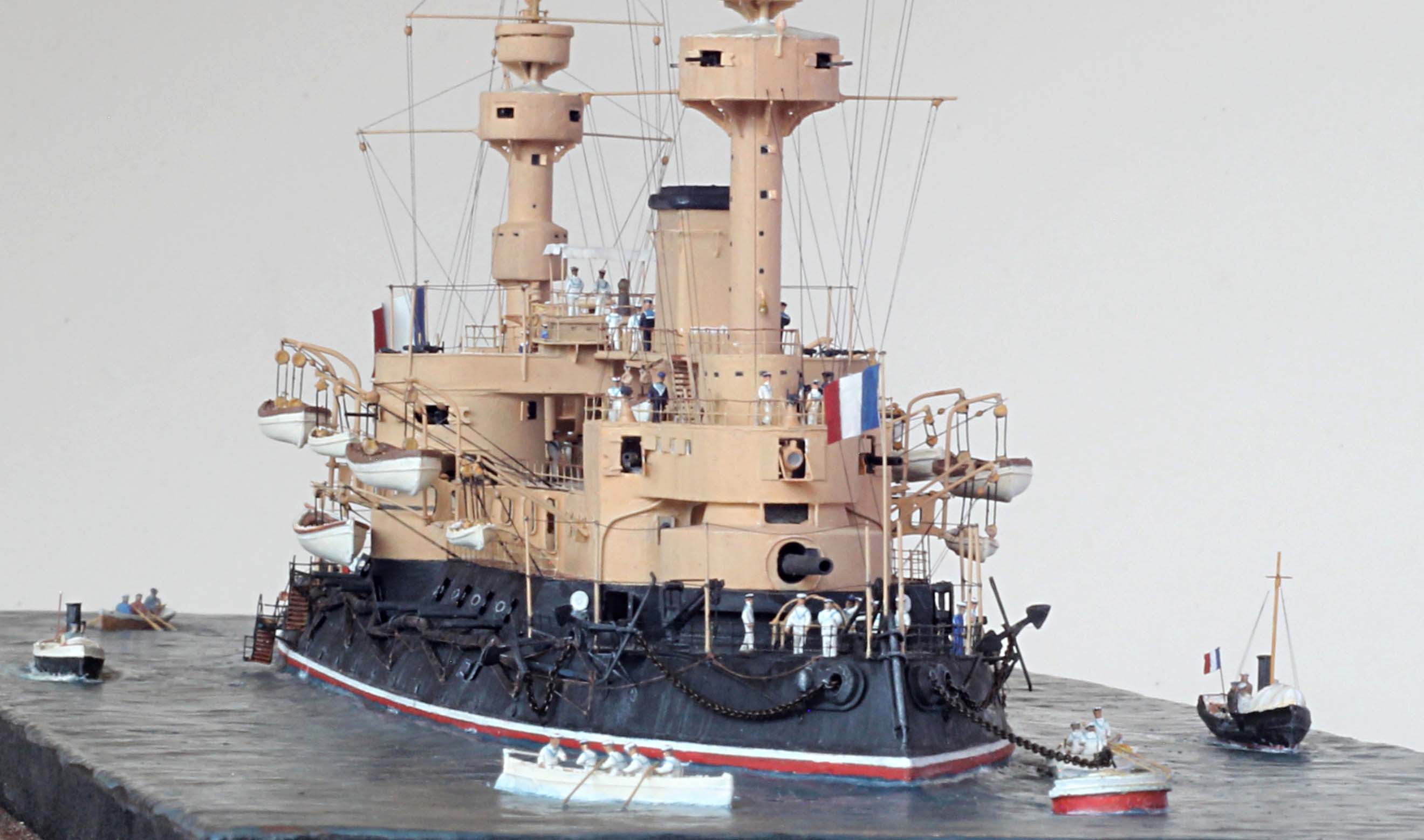 1/350 French navy 'Hoche ' (Combrig)
French pre-Dreadnought "Hoche"


Hoche was something of an experimental ship, her built up appearance apparently gained her the nickname "Grand Hotel" in the French Navy.

For accuracy, various corrections and many details were made/added, based on photos of the ship itself ( including changing the main decks from wood to steel)..

For added interest and depth, all the doors, ports and windows, etc, were hollowed out and opened up. ( I particularly also wanted an "open" secondary gun deck.)

The doors, hatches and window covers, etc, were made from plastic sheet or paper; the canvas awnings were made using thinned wood glue,

The flags were made from thin paper; and the foredeck cranes and bow/stern details were scratch-built.

All rigging is made using stretched sprue.

The detailing and locating of the many boats, davits, pulley blocks (made from wire rings), companionway ladders, etc, took some time.

Much time was spent smoothing out and concealing the joint lines in the superstructure.

The sailing barge being sculled , was constructed from plastic sheet and various bits and pieces.

The overall aim was to capture the sheer clutter, detail and "atmosphere" of this unusual and flamboyant ship and to depict her peacefully riding at anchor, surrounded by bustling boats, at the end of the19th century.


Many thanks to Jim Baumann for taking the photos.

Nick Dogger
---
Gallery updated 12/12/2021


© ModelWarships.com