HMS Dreadnought (1907)
by Robert Apfelzweig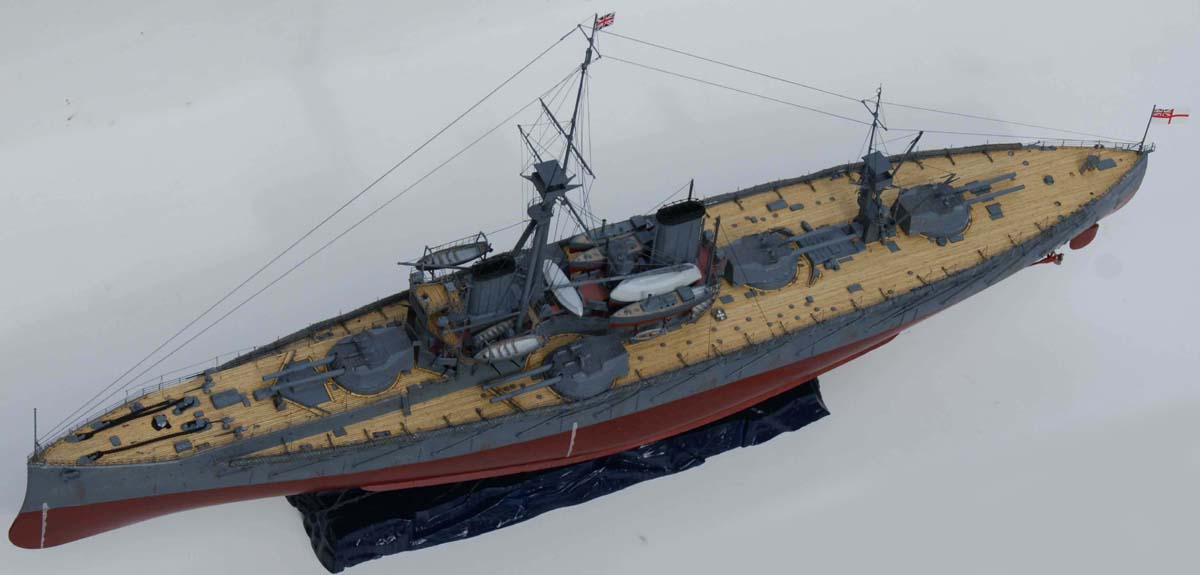 1/350 HMS Dreadnought (Zvezda)
This is Zvezda's relatively recent issue of one of the most famous battleships in history, HMS Dreadnought, the first all-big gun and first steam turbine battleship to be commissioned by any navy, and built in what was then the record time of one year and one day (she was commissioned on December 2, 1906). This kit is superbly augmented by the Pontos upgrade set, which features a wooden deck, extensive brass and steel photoetch set, resin searchlights and brass gun barrels, masts, tripod legs, torpedo net booms and yardarms. The Pontos set is very extensive, but as with their previous release for the Academy HMS Warspite, their color assembly instructions (on one large folded sheet of paper, both sides) includes a number of parts, some in rather significant numbers, for which no assembly instruction illustrations are included. With some of these it is fairly easy to ascertain what they are for, but some research will be necessary to correctly (or at least reasonably) position them on the ship, or whether to use them at all. Also, although Pontos has improved its instructions by enlarging the illustrations when compared with the Warspite set (thank you! my eyes are grateful!), they have misnumbered several small parts, either on the instructions or on the photoetch frets. Otherwise, the wood deck fits extremely well, though some buckling may occur after attachment (I didn't bother to thoroughly clean the underlying plastic deck before attachment, so it's likely my own fault). Pontos includes steel photoetch anti-torpedo nets as they would appear if deployed, and the brass booms to hold them are all expertly fashioned if one wishes to portray them this way. A nylon mesh sheet is provided for those who presumably wish to roll up the nets to show them stowed, but no instructions are provided as to how to do this and I found it much easier and faster to simply use two suitable lengths of cylindrical shoelaces, spray-painted with Tamiya Ocean Grey (RAF) and wound with grey thread. This was then easily installed onto the steel photoetched stowing strips that Pontos provides for the edges of the deck.
A few notes on Zvezda's kit engineering -- the decks have a noticeable camber, possibly exaggerated, and although the gun turrets are designed to rotate once set in place, I found that they will do so only with great resistance, and are best left alone to avoid damage to the railings and 12-pounder guns atop them. Regarding those small guns, 26 are included in the kit but Pontos provides only 25 brass barrels; according to Wikipedia, HMS Dreadnought originally had 27 12-pounder (3-in./76 mm) guns, and there are positions for 4 on both the quarterdeck and forecastle deck, with some sources showing them in either location (but not both); the total number of such guns varied during the Dreadnought's career but were generally retained as pairs atop the five gun turrets. Zvezda's parts fittings are generally quite good, although the hull's cross-braces could be stronger and more numerous. Also, the Dreadnought carried five submerged torpedo tubes, but nothing on the hull denotes their location.
My model was completed with stretched black sprue for most of the rigging (the boat crane cables are part of the Pontos set), and painted (somewhat arbitrarily, since precise color matches of pre-WWI British warships seem difficult to find) with Tamiya Neutral Gray (XF-53) for the upper hull, masts and superstructure, ModelMasters gunmetal for the 12-pounder barrels, WEM Colourcoats GW 04 for the turret tops (which are brass photoetch) and the lower hull was sprayed on with a burnt sienna water-based paint. Although other models of the Dreadnought often show a black boot topping for the lower hull, my references indicate there was no such coloring, at least early in HMS Dreadnought's career.
The Dreadnought, for all her revolutionary design features (which were soon copied by other major navies, and contributed markedly to the naval arms race that led up to World War I), never saw any combat action against the Imperial German Navy, and was decommissioned in 1919 and scrapped in 1923. She did, however, have one other distinction -- she was the only battleship ever to sink a submarine, when she rammed and sank the U-29 in March 1915. The submarine had inadvertently broken the surface just ahead of the Dreadnought while trying to torpedo the battleship HMS Neptune, and the Dreadnought gave chase and used its ram bow to cut the submarine in two.

---
Gallery updated 2013


© ModelWarships.com