HMS Hood
by Ted Bunn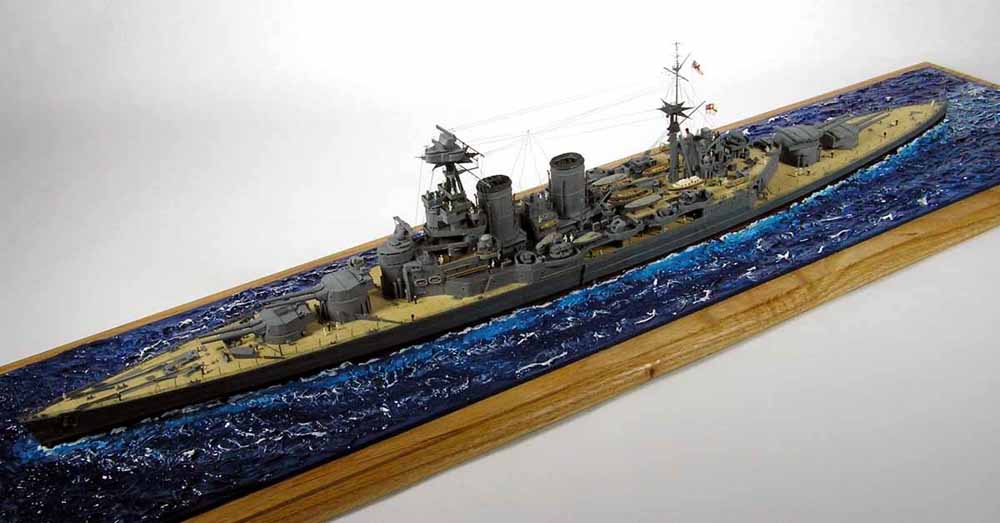 1/350 HMS Hood (Trumpeter)
This is my Trumpeter 1/350 HMS Hood. I have added the WEM and both of the GMM PE sets to her, sometimes using parts from each set on certain pieces. I have also added the WEM turret, pom pom gun, and anchor resin replacements. Scratchbuilt parts include hatch coamings, additional stanchions, ammo boxes, splinter shield augmentation and replacement in certain areas, fighting top platform, and the mechanisms inside the funnels. I must admit I took a bit of "artistic license" there as I didn't have any good pictures of what was inside the real ones. However, Hood has large funnel openings and I wanted to add something there. Brass barrel replacements are from Modelmarine.de. The rigging was made from stretched sprue and the awning stanchions were rigged with 8/0 Uni thread. Hood is crewed with L'Arsenal 1/350 resin figures. Colourcoats paints were used throughout.
I tried to follow the excellent article on improving the kit written by F.W. Allen on the HMS Hood Association website, which I used as my primary resource. I think I accomplished the majority of Franks suggestions with the notable exception of the enclosed signalman's shelters which I just never got around to attempting. There may be other omissions as well because the article is continually being updated and some things appeared after I had passed that phase of construction.
Special thanks goes out to John and Caroline Synder and the fine folks at WEM for their advice, PE and resin replacement parts on this project.
---

© ModelWarships.com