HMS Montagu
by John Hinde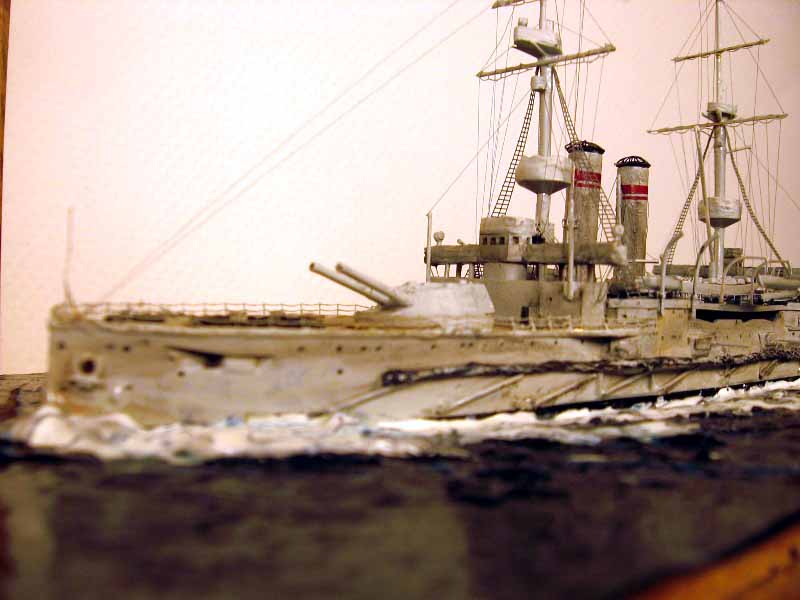 1/700 HMS Montagu (Combrig)
This is my first submission and my first completed resin kit. My original intention was to do a diorama of HMS Montagu after it had run aground off the Lundy Island in the Bristol Channel in May 1906, but found that it was stretching my skills too much. Instead of a diorama entitled "On the Rocks," this is now simply called "To the Rocks."
I enjoyed building the kit very much and am now hooked on resin. The only issue is the location of the masts. Fortunately I read the review of HMS Duncan at steelnavy, which pointed this out and saved me from a great deal of grief. I especially benefited from all the tips and tricks I learned here. They made my modeling a much more pleasurable experience than otherwise would have been the case. By far the best tip and investment was an optivisor. Now I can actually see what I am doing. Since this build, I have also started to use white glue instead of superglue for the railings. This seems to be much more effective. Caenis thread was used for the rigging as I can't stretch sprue to save my life. The masts are scratch build and I used the WEM WWI battleship set.
I did have a number of difficulties - I made a mess of the small deck at the rear, the torpedo netting is poorly done, and my photography skills are minimal. Still, some progress has been made.
---

© ModelWarships.com