HMS Thunderer
by Peter Fulgoney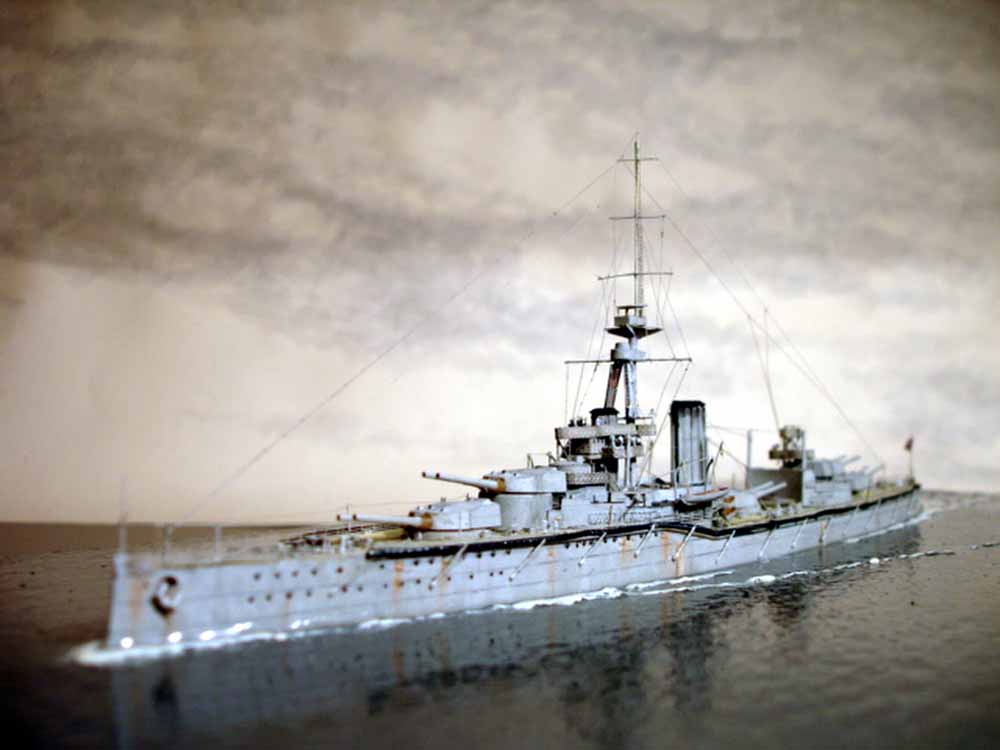 1/700 HMS Thunderer (Combrig)
Laid down as a super dreadnought in April 1910 at Thames Iron Works, HMS Thunderer was one of four Orion class ships. Her position in the Grand Fleet was part of the Second Battle Squadron, and she saw action on 31st May 1916 at The Battle of Jutland. Only five years later she was decommissioned as part of the Washington Treaty, and scrapped in 1926.
Statistically she was a 21-27 thousand ton ship (full) with 10 x 13.5 inch main armament, and 16 x 4 inch secondary armament. 576 feet in length, she reached 20.79 knots in trials.
An excellent description of all the ships of this class is available on the Combrig site, again another very well informed thesis by Steve Backer.
Combrig have produced a wonderful kit of this ship, and with R. A. Burt's "Battleships of WW1" an accurate model may be produced to enhance your Grand Fleet collection.
I decided to build the mid life version using WEM RN03, and employed the torpedo nets, and booms as per the instruction sheet. I painted a darker grey wash over the hull to scale the colour, and add depth together with a dry brush of various MIG pigments. I also went over the deck, and detail with 5mm, and 0.5mm pencils, mainly after painting parts on the sprue as they are difficult to get to when fixed.
The rig is all stretched sprue, and all masts are replaced by brass rod. The sea is Tamiya Luftwaffe Grey on tick artist's paper which has then been gloss varnished. The bow wave is pva painted white. The PE is a mix of WEM Tiger, and Iron Duke together with kit supplied parts.
You have to supply the patience for the deck detail as there's a good number of very small parts. I think I lost a dozen or so as they flew out of the tweezers never to be seen again. Hence one pair of searchlights each side of the aft superstructure are missing. It's about a working week's build but you can keep adding to it as you study the various photos and realise that there's more to include.
The pictures include the start on 20th November 2005, and an Erin/Thunderer composition.
---

© ModelWarships.com