IJN Fuso
by Kym Knight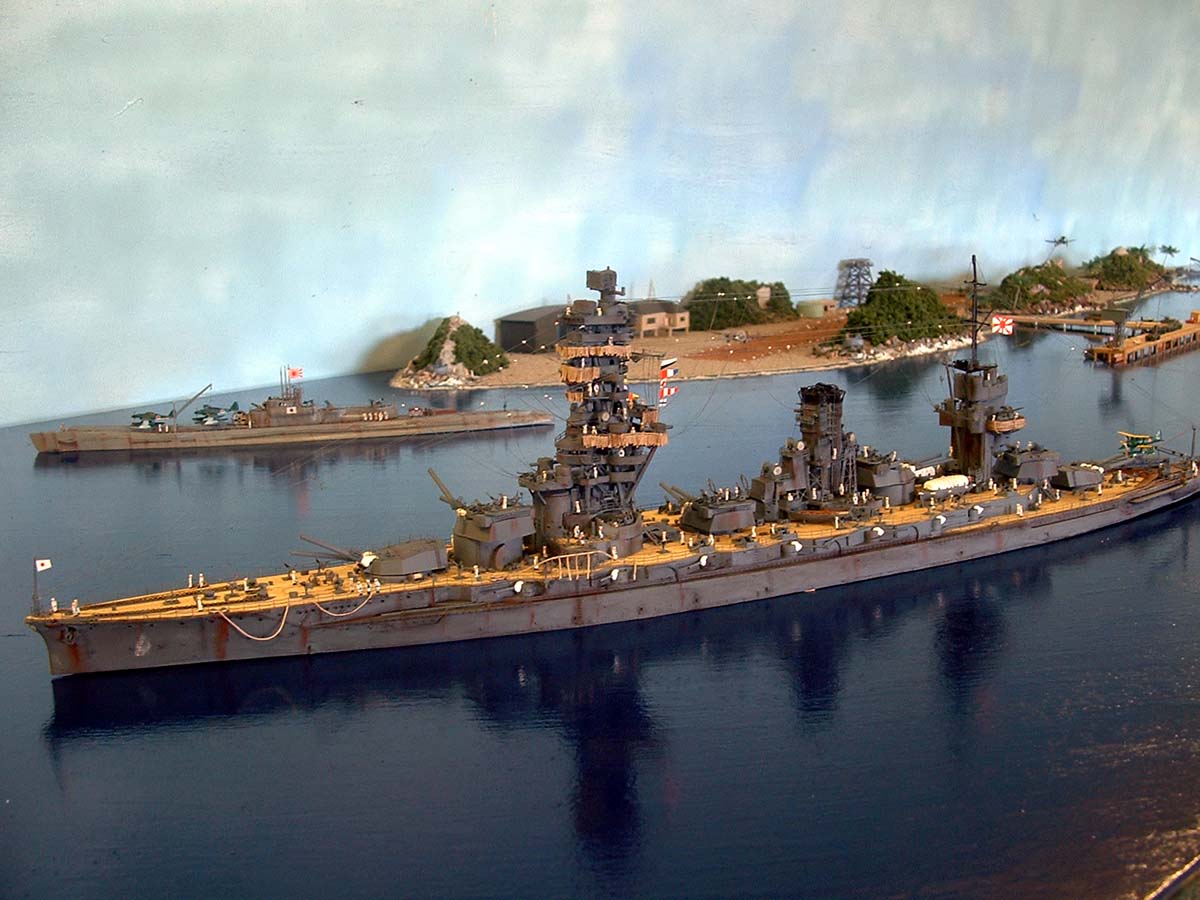 1/350 IJN Fuso (Fujimi)
The Ship:
When battleship Fuso was completed in 1914, she was the largest and the most powerfully armed battleship in the world. She did not participate in any major action during WW1. During the inter-war years, between Apr 1930 and May 1933, she was modernized; her armour was increased to a total of 12,199 tons (or 42% of total displacement), her boilers were replaced with new Kampon boilers, and her torpedo tubes were removed. During the remainder of the 1930s, she served largely in the Inland Sea in Japan as a training ship.
In April 1942, Fuso entered front line service as she was ordered to search, unsuccessfully, for the American task force that launched the Doolittle Raiders under the command of Captain Mitsuo Kinoshita. During the Battle of the Aleutian Islands, she was a part of the screening force. Between 5 Dec 1942 and 1 Jun 1943, she was under the command of Captain Keizo Komura. During this time, considerations were given to convert Fuso into a battleship-carrier hybrid as a response to the losses at the Battle of Midway, but the plans were cancelled before the scheduled construction date of Jun 1943. Between 1 June 1943 and 23 Feb 1944, Fuso was under the command of Captain, later Rear Admiral, Nobumichi Tsuruoka. In July 1943, she received 21 additional anti-aircraft guns and a Type 21 radar. On 23 Feb 1944, Captain, later Rear Admiral, Masami Ban took command of her. In August 1944, she received further anti-aircraft weapons, two Type 13 and two Type 22 radars.
In Oct 1944, Fuso sailed as part of Admiral Shoji Nishimura's Southern Force which engaged in the Battle of Surigao Strait. En route, she was attacked by carrier aircraft and sustained a bomb hit in the Sulu Sea, damaging her catapult and aircraft. At 0309 on 25 Oct, she was hit by one or two torpedoes fired by the American destroyer Melvin. At 0338, fires spread to the magazines of her C and Q turrets. At 0345, one or both of the magazine exploded, breaking Fuso into two separate sections and nearly killing every man aboard. The bow section sank as the result of gunfire from American cruiser Louisville, and the stern section sank off Kanihaan Island. Those few who survived refused to be rescued by Americans.
Ship Class - Fuso-class Battleship
Builder - Kure Naval Yard, Japan
Laid Down - 11 Mar 1912
Launched - 28 Mar 1914
Commissioned - 18 Nov 1915
Sunk - 25 Oct 1944
Displacement - 34700 tons standard; 39154 tons full
Length – 213.7 meters (698 feet)
Beam – 30.5 meters (100 feet)
Draft – 9.75 meters (32 feet)
Machinery - 6 Kampon boilers, Kampon turbines, 4 shafts
Power Output - 75000
Ship's Speed - 25 knots
Crew – 1800
Armament – 6 x twin barrelled turret 356mm guns, ,4 x twin 127mm Type 89 dual purpose guns, 17 x single 25mm AA guns, 16 x twin 25mm AA guns, 8 x triple 25mm AA guns, 10 x 13.2mm machine guns
The Build:
What can I say other than that these Japanese kits are getting better and better. I've been wanting a kit of Fuso (my favourite IJN Battleship) for quite a long time now and Fujimi certainly did not fail me. Everything from the plastic parts of the kit to the photo-etch and wood deck detailing add-ons are well thought out and manufactured. The only thing I used that was not from the kit were the 4 x 127mm type 89 dual purpose guns from Veteran Models, tungsten wire for the rigging and WEM photo-etch hatches for the opened ones. All paint are WEM Colourcoats (Thanks to Randy Short and Harry from BFM for sourcing the rare Kure Grey)
The kit has a few mistakes. The first being the 10 x 25mm machine guns fore and aft should be 13.2mm's (none in the kit, but apparently Pit Road sell them aftermarket and I'll correct at a later date) and the two 25mm twins on #5 turret should be triples (enough spares in the kit to do this). The two 110mm searchlights on level 6 should be replaced with 60cm lights (again, none in kit). There is a small room missing from level 6 on the main superstructure, but I didn't bother.
Overall, I would genuinely recommend this kit with its P/E and wood deck accessories, expensive, yes, but if you look at it as cost of kit divided by hours of enjoyment in construction, it balances out nicely.
---

© ModelWarships.com