Imperial Russian battleship Peresvet
by Robert Apfelzweig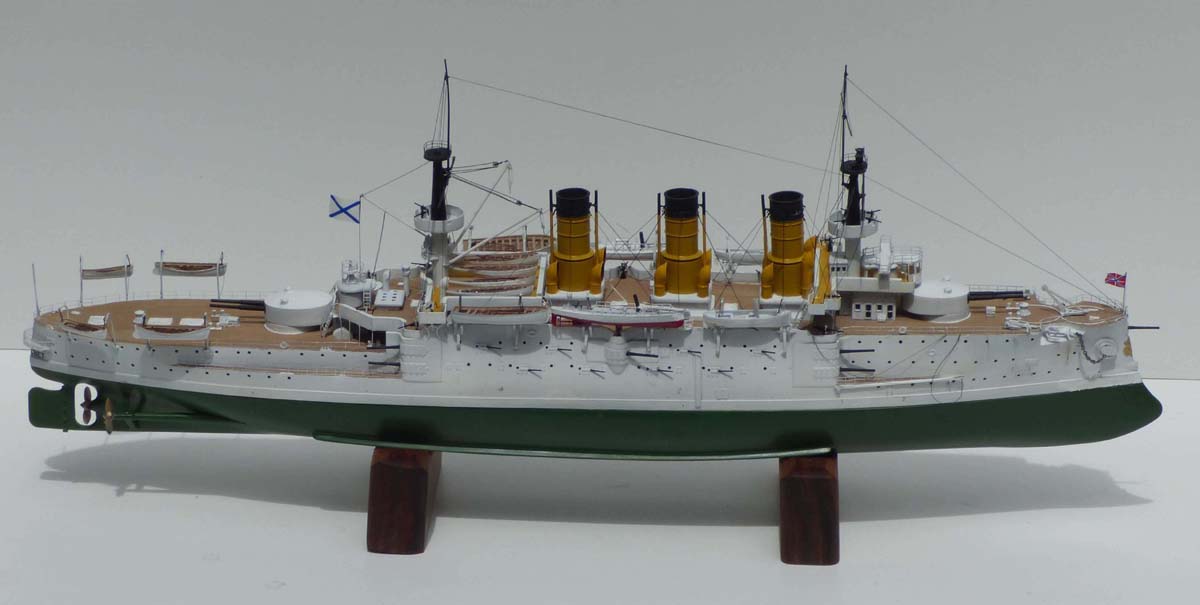 1/350 Imperial Russian battleship Peresvet (Combrig)
The Peresvet [pronounced pyair-yes-VYET] was the first of three sisterships completed just after the turn of the 20th century; the Combrig kit depicts her in her early Baltic white color scheme before she was sent around the world to become part of the Russian navy's First Pacific Squadron. She fought with some distinction against the Japanese navy in several battles in and around Port Arthur in 1904, but sustained significant damage and was finally scuttled after being struck numerous times by 11-in. shells fired by Japanese siege guns when the Japanese army was able to seize hills overlooking the harbor with its anchored Russian ships. She settled in shallow water and the Japanese, once they had captured the port, were eventually able to refloat her in 1905 and bring her to Japan, where the Peresvet became the Imperial Japanese Navy's battleship Sagami. Repairs took until 1908 and by 1912 she had been reclassified as a coastal defense ship. With the advent of Japan's entry into World War I and with Russia now being an ally, the enterprising Japanese government sold the Sagami (and several other captured ex-Russian warships) back to Imperial Russia in 1916; after some repairs in Japan following a grounding, the Peresvet (now with her old name restored and reclassified as an armored cruiser) began the journey back to Russia in October of that year. She made it as far as Egypt, stopping in Port Said for some machinery repairs before entering the Mediterranean Sea (ultimately on her way to the Arctic Ocean) but on January 4, 1917 struck two mines that had been recently laid by a German submarine about 12 miles north of that port, sinking for the second and final time with a loss of over 100 men.

Combrig's resin kit is beautifully cast for the two hull parts; indeed, this is the first such full-hull Combrig kit in which the upper and lower halves matched perfectly without the need for significant filling or sanding. There a single brass photoetch fret which does not include railing, except for a pair of searchlight platforms. The instructions, sometimes ambiguous in the usual Combrig fashion, include diagrams for the lengths of brass or plastic rods that would be needed for the topmasts, yardarms, funnel pipes and booms, but they provide only lengths, not widths. I used brass and Evergreen plastic rods, and spare 2-bar railing from previous builds. The instructions call for only a single boat boom attached to the mainmast, even though online photos of the ship and the included topview diagram show two such booms. The motor launches and rowboats are excellently cast, but some small parts for the former are illustrated in the assembly instructions without being supplied either in brass or in resin. The two largest motor launches, seen in center amidships, have small guns and a searchlight and what looks like a single torpedo tube at the forecastle. The ship carries four steam launches but the photoetch fret provides only two propellers for them. The kit has no decals or flags, and I used some leftover flags from a previous kit. Combrig's overall engineering is quite good and fit of parts was generally excellent, with the exception of the broadside boat davit attachment structures; the small, flat boat cradles that are supplied from the photoetch fret are too short (along with their resin platforms) to support the keels of the boats, at least insofar as those uncertain assembly instructions show. Also, in a few instances there are some small parts -- resin and brass -- which are provided in insufficient numbers for what is needed, whereas some other parts are provided in excess of what is needed. I completed the details of the small boats with Northstar oars and cargo hoist blocks. Rigging was made from stretched black plastic sprue.

The Peresvet was somewhat unusual for a battleship in that its main battery consisted of four 10-in., rather than 12-in., guns, and had the interesting feature (along with certain other contemporary Russian warships) of mounting a single 6-in. gun in the prow to act as a "chaser", with its location so placed as to offer only a narrow arc of fire. I used Aber 6-in. brass gun barrels and painted the ship with Tamiya flat white, dark green, flat black, flat yellow (mixed with a bit of desert yellow), wood tan and Testor flat white spray paint.
---
Gallery updated 4/27/2017


© ModelWarships.com