Ship-of-the-line "Elsass", Imperial German Navy
by Gabriel Basurco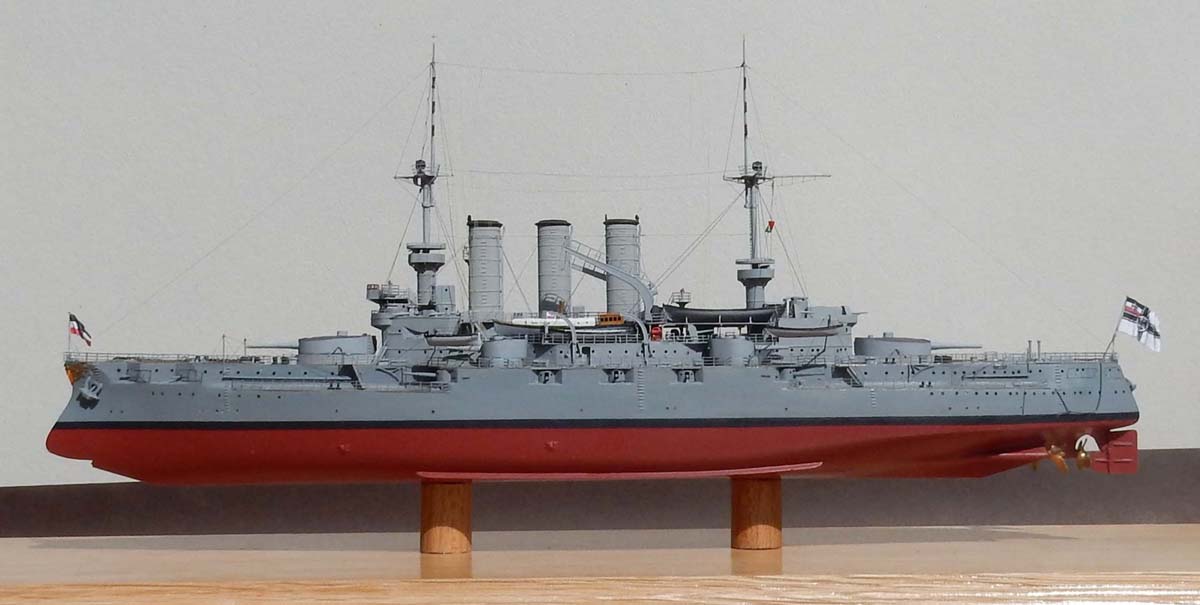 1/400 SMS Elsass (Scratchbuilt)
This is my german pre-dreadnaught "Elsass" of the Imperial Navy, scratchbuilt in 1/400. It took me 16 years (!) to get her finished due to longterm interruptions- anyway there she is!

The ship: one of five of the "Braunschweig"-class, launched in 1903. Length 127 m, beam 22.20 m, displacement ca. 14.000 tons. She was powered by a triple expansion engine.

Main armourment were 4 guns 28 cm and 14 guns 17 cm. Being outdated soon after joining the fleet she served as a training ship during WW1 and was thereafter allowed to join the german "Reichsmarine", the navy of the democratic Germany between the wars. Put out of service in 1930 she was finally scapped in 1936. The D-cruiser project that later turned to be the Scharnhorst-class was begun under the working-title "Replacement for Elsass".

The model: resin-cast hull, self-designed PE-frets, resin-cast armourment including the barrels, main deck in brown cardboard with the seams printed on. Major parts of the suprastructure are PE-parts, masts an spars in metal, rigging is stretched ABS-material. Actually no after-market products were used except the forward anchor chains.

Many thanks to Lothar Wischmeyer who designed the fantastic ship-plans and to all who run this inspiring website!
Gabriel Basurco
---
Gallery updated 1/5/2018


© ModelWarships.com