USS Pennsylvania ACR-4
by Wolfgang Kring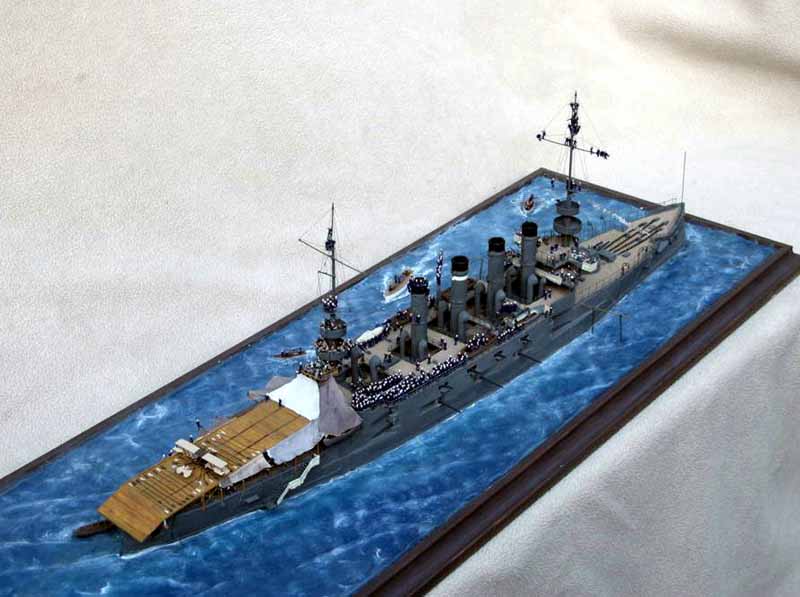 1/350 USS Pennsylvania ACR-4 (Iron Shipwright)
The Battleship USS Pennsylvania ACR 4, was nameship of her class, consisting of a total of six units authorised by the American Congress in the years 1899 and 1900 .The contract to build the "USS Pennsylvania" went to the "William Cramp and Sons" shipyard in Philadelphia, the keel being laid 1901. Launched in 1903, she entered service two years later.
The Pennsylvania-class from the outset suffered some fierce criticism. They were longer than the American battle ships of their time, needed more crew, but had neither the hitting power nor protection of the battleships, however they were about 3 knots faster.
The USS Pennsylvania steamed around much of the world's oceans and remained in service until 1931. In August 1912, she was renamed USS Pittsburgh AC4 to free up the name for a new battleship.
January 1911 saw an unusual construction being fitted; a wooden ramp with a length of 37m and a width of 9m was mounted on the stern. On this, the pilot Eugene Elymade was to make the first landing of an aircraft on a ship. Only three months previously in November 1910 Ely took off from a similar construction from the bow the cruiser USS Birmingham CS2 .
Eugene Ely started out on the morning of the 18th January 1911 in his Curtis Pusher biplane from Selfridge Air-Field south of San Francisco and flew across the Bay where Pennsylvania lay at anchor. Elys aircraft had a hook, designed to catch on 22 ropes weighted with sandbags which spanned the flight-deck', this would slow the plane down.
In addition, the landing deck had two longitudinal guiderails, intended to prevent the landing aircraft from sliding across and over the side .The mainmast, platforms and the sides of the ramp had canvas protective curtains spanned-to further prevent damage in case the landing was less successful than intended....
As Elys aircraft alighted, she was slowed rapidly by the weighted ropes dragging, and he came to a complete stop within the length of short deck The experiment had proved entirely successful and Ely was feted a hero by crew and invited guests alike.
After about an hour he turned his plane around, started the engine and rolled down the platform to return to the mainland.
The kit
I used the USS South Dakota ACR9 kit from Iron Ship Wright, sister ship to USS Pennsylvania ACR4 . In addition, there were a total of approximately 600 figures from the German manufacturer "Preiser"in plastic and the Czech manufacturer "Goffy" in Resin.
The landing platform and the Curtiss Pusher were scratchbuilt.
Conclusion
For many years already I had wanted to recreate this historic scene-thanks to ISW this became reality.
I extend my thanks to Bob Cicconi and Jim Baumann among others, but especially to my wife for her patience with me and my hobby!
Jim Baumann, Bob Cicconi for their support and especially to my wife for her priceless patience with my Hobby,… and me.
Photos: Stefan Labich
---

© ModelWarships.com