USS Astoria
by Rainer Michalek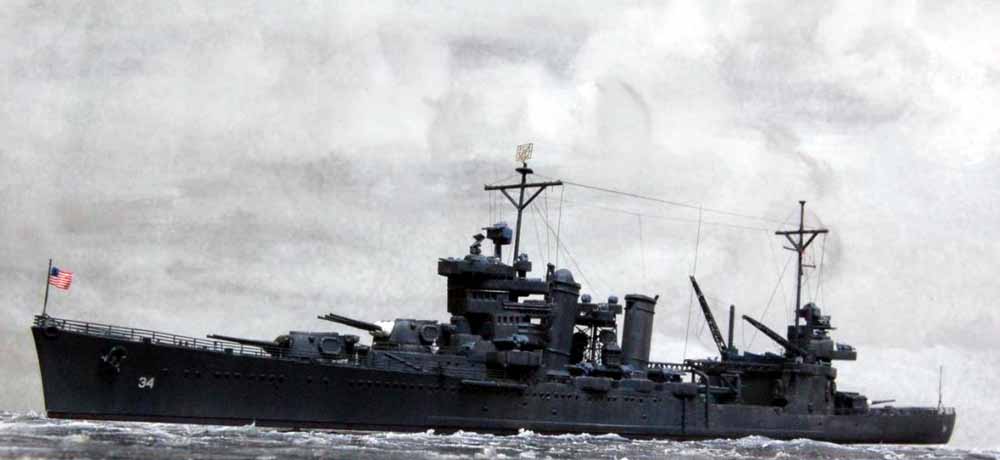 1/700 USS Astoria CA-34 (Trumpeter)

.
USS Astoria CA-34 (New Orleans - Class)
History
USS Astoria (CA-34) was laid down on 1 September, 1939, at Puget Sound Navy Yard. After three years of building, she was launched on 16 December, 1933. She was commissioned on 28 April, 1934. She was sunk off Savo Island by torpedoes and gunfire on 9 August, 1942.
Specifications
Disp. 9,950 tons
Length 588 ft
Beam 61' 9"
Draft 19' 5"
Top speed 32.7 knts
Crew 899
Armament 9 x 8" (3x3), 8 x 5", 4x4 40 mm/56 Mk1/2, 8 x .5 in

The kit

The kit comprises 7 grey sprues for the ship, plus one clear sprue for the aircraft. The model may be built either full hull or waterline. A decal sheet contains flags, national insignia for the aircraft and hull numbers for three units. The 8-page, 14-step instructions are clearly drawn. Colour callouts refer to Mr.Color paints. A display with a nameplate completes the kit which comprises of 196 parts.

The parts are free of flash, not much sanding is needed. All parts are sharply molded with many nice details. Those intending to make more of their model should use appropriate PE sets.

Building the kit

The USS Astoria kit builds easier than the WSW Quincy, as it does not need many corrections. The kit is absolutely free of flash, so no putty is needed. Thanks to the clear instructions, basic construction does not take much time. Throughout the build, PE parts from Pit-Road set #189 and Tomīs Modelworks railings were added.

For the main artillery, machined barrels by BMK Kleinserien were used, a high-end manufacturer guaranteeing excellent aftermarket parts. WEM Colourcoats enamels were used exclusively. Astoria had a very effective camo scheme, which is evident at model level, too. The vessel was painted Navy Blue 5-N over all, apart from items like radars, secondary artillery, AA and lifeboats. These ware painted Sea Blue 5-S.

The rigging was done using black stretched sprue. The only downside to the kit are the aircraft with much too thick wings. I assembled and decaled one of them and glued it with CA glue, amidships where it is not so conspicuous.

The base

The base was made my usual way, from a styrofoam plate painted with tempera paints. After drying I made a calm sea from clear silicone, which was finally drybrushed using titanium white artistīs oil paint.

Conclusion

This is a very nice kit of USS Astoria, promising a lot of modelling fun for about 20 Euro – a good value for money.

---


© ModelWarships.com