HMAS Canberra
by Jon Iverson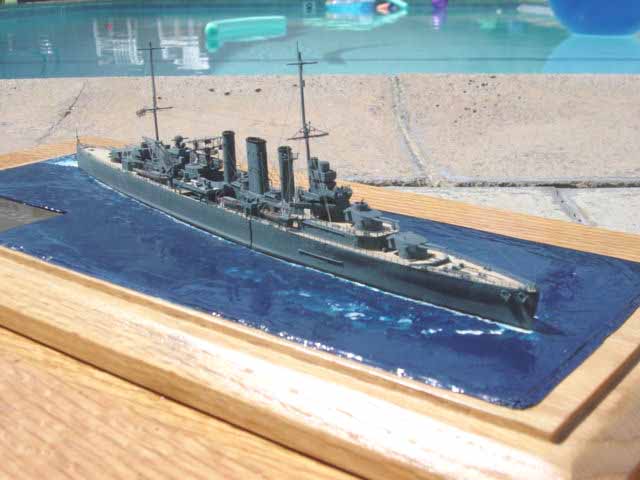 1/700 HMAS Canberra (Combrig)
Here is my 1/700 Combrig HMAS Canberra I finished in 2005. The ship represents the final configuration in 1942 - to the best of the references I could find.
It was finished with the WEM County Class Cruiser set. I added the WEM Pro Resin large radar lantern and Walrus seaplane. The flag is from Dunagain Decals. I rigged the ship in .002 Dai Riki Monofilament.
I painted the ship in WEM Colourcoats B15 - the best approximation for RAN Chicago Blue. I got the idea from John Snyder at WEM / Snyder & Short. It does match the color chip fairly closely.
The 8" gun barrels are from Steve Nuttall's CNC HMS London class barrels. While the resin supplied gun barrels are adequate and straight, Steve's barrels are incredible and dressed up this great little kit in a big way. Keep them coming, Steve!
Additionally, I scratchbuilt the whistle platform on the #1 funnel as well as the bridge windows and Batt 2 windows.
The figures are from GMM's 1/700 set - hand painted.
---

© ModelWarships.com