HMS Kent
by Peter Fulgoney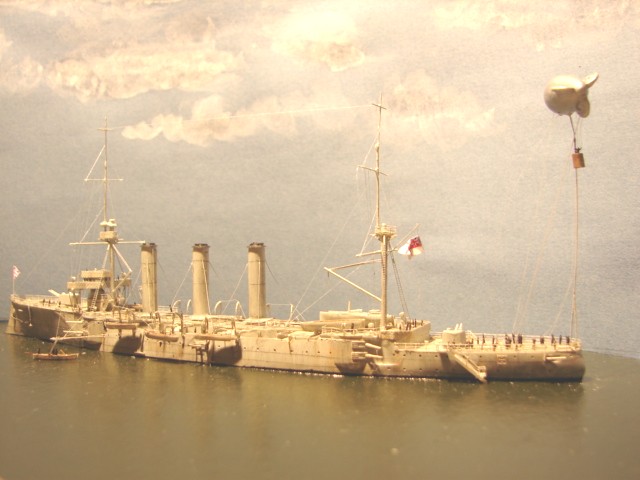 1/700 HMS Kent, Armoured Cruiser (Combrig)
Here is a subject that has been hardly touched until now, an armoured British cruiser of the early 1900's. Thanks to the Russian model makers Combrig, we are now spoilt with this wonderful value for money resin kit complete with photoetch parts. There is very little to criticise and covers a number of skill levels as to how detailed you want the kit to appear.
The ship itself is well documented, (ref "Castles of Steel) but one thing is certain though, and that's the calibre of the main armament, something you would expect to see on a much smaller ship.
The paint scheme is 507c which is good because the smaller models are easy to photograph when they reflect light, and showing depth and detail.
The kite balloon is an addition to the kit. This was made by Jeff Rogers from "Fimo" putty. Jeff is very skilled at making these smaller objects and it was an easy progression from his usual doll's house models where the "Fimo" is used to make various food items, and smaller household items. The only problem with the balloon is the weight and this has caused need for a thicker support – 1thou brass rod, but the finished model is acceptable.
The build was fairly quick, and relatively simple following the instructions provided. My main departure from the convention is to use three types of rig media – WEM Lycra for the main runs, thin wire for the funnel stays, and then stretched sprue for the finer detail.
---

© ModelWarships.com