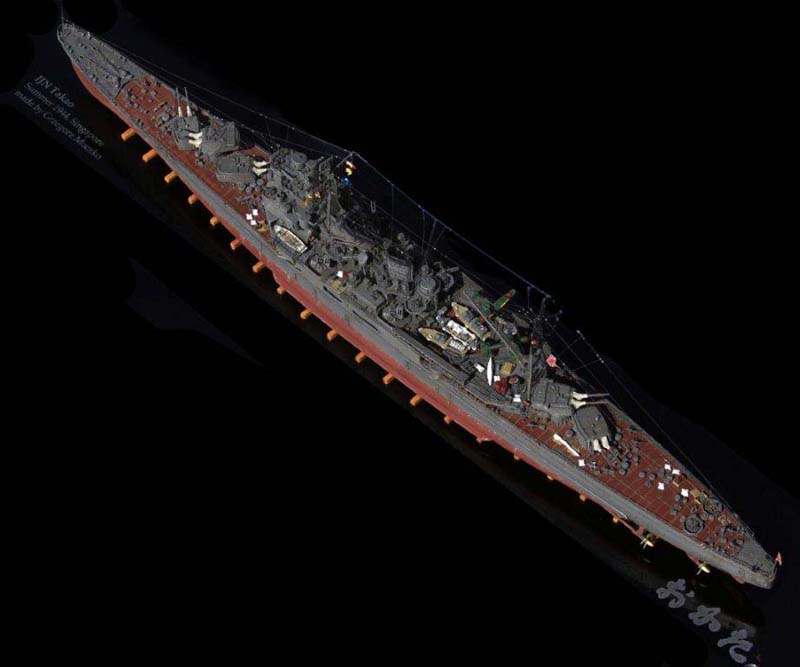 1/350 IJN Takao (Aoshima)
After two years of hard job, good and bad stories I have finished the most beautiful cruiser ever on Pacific Ocean.
Laid down in May,12 1930 as first of four sister ships called Takao type. She participated in almost all battles on Pacific during WWII. As one of very few ships of IJN Navy she survived War Combats. She actively participated Solomon Campaign, also in night Battle Of Guadalcanal; bloody and deadly fight between USS Washington & South Dakota and IJN Kirhishima. IJN Kirishima has been sunk. In my opinion that was the most spectacular battle during the whole Pacific War.
.... In 1944 Takao with 3 sisters has joined to "No 1 Yugeki Butai" under the command of Vice-Admiral Kurita as new created First Strike Force for Operation "SHO Go". We have hot Summer. August, 30. IJN Takao just arrived Singapore. That's the moment I was trying to catch....
Model was made from Aoshima kit, main detailing kit came from Flyhawk. Several additional PE frets have been designed and etched in order to make the build more accurate.

---
Gallery updated 2013


© ModelWarships.com