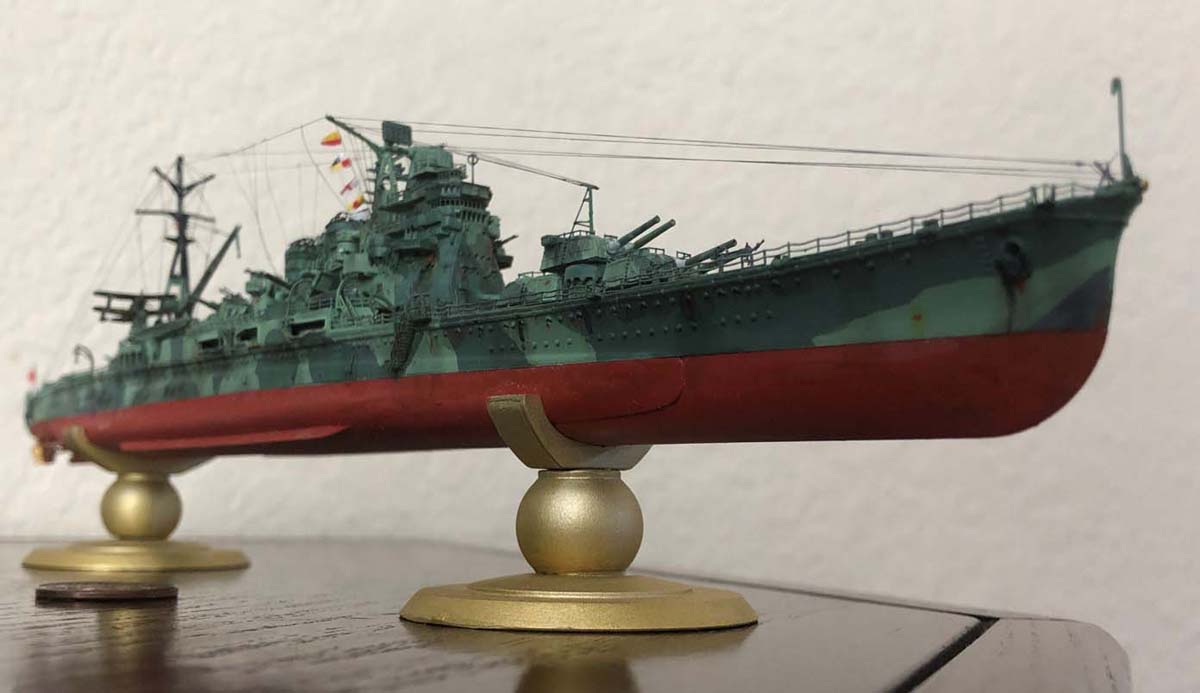 1/700 IJN Takao (Fujimi)
Takao was Imperial Japanese Navy heavy cruiser. She was a lead ship of her class. Built in early 1930s. With displacement (full load) above 15,000 t and length about 200m she was one of the largest cruisers in the world. Having 10 8" guns in 5 turrets, 4 4-tubes type 90 torpedo launchers, 8 type 89 dual purpose 5" guns and 66 type 96 25mm anti aircraft guns, she was very powerful even at the end of world war 2.

Takao has participated in multiple naval operations on the Pacific ocean. In 1941/42 she supported Japanese landing on Philippines and Netherlands East Indies.

In June 1942, Takao supported the invasion of the Aleutian Islands. In second half of 1942 she participated in operations around Guadalcanal. On November 15 1942, Takao with her sister ship Atago and battleship Kirishima, engaged the American battleships Washington and South Dakota. During the battle Japanese Navy lost battleship Kirishima. USS South Dakota has been damaged.

In early 1943 Takao supported evacuation of Guadalcanal.

During the Battle of the Philippine Sea, Takao was part of Vice Admiral Takeo Kurita's Mobile Force Vanguard.

For the Battle of Leyte Gulf Takao was assigned to Admiral Kurita's Centre Force. She was hit and heavy damaged by by two torpedoes from submarine USS Darter during initial phase of the operation.

The rest of war she spent moored in Singapore. She surrendered to British forces.

In 1946 Takao was sunk as a target ship for the cruiser HMS Newfoundland.

The model painted in camouflage from 1945.
---
Gallery updated 4/12/2019


© ModelWarships.com