IJN Takao 1944
by Richard Price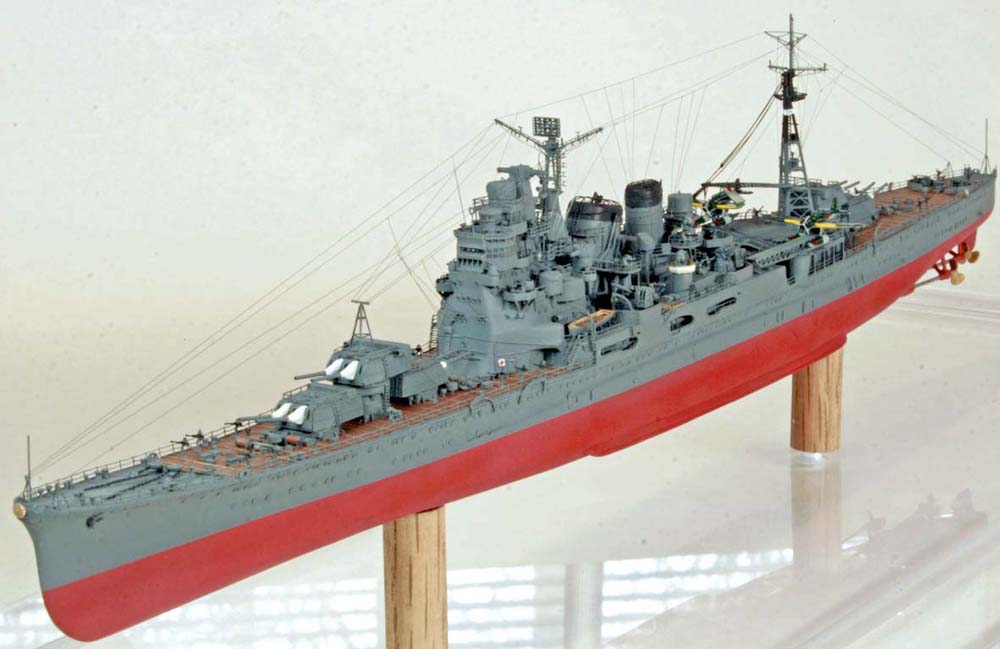 1/700 IJN Takao 1944 (Aoshima)
1/700 IJN Takao as of 1944 built from the Aoshima waterline kit (#28506). My intention was to approach this in the 'museum style' with a pristine finish without weathering or washes so I could focus on the detail. The lower hull was made from sheet styrene in sections; this proved to be a bad idea as over time the styrene contracted arching the upper hull in the center. Over the period of two years while the completed hull sat on the shelf I repeatedly made saw cuts into the lower hull and pushed in wedges to straighten things out. I have since discovered basswood to be a much, much better material :(
As well as the hull, there has been significants mods made around the forward tower area, around the base of the fore funnel, the boat deck and aft housing; add to that easily over 100 smaller tweaks from stem to stern. This has proved to be an extremely tricky build in places as I had three sources of size, Aoshimas kit, Janusz Skulski's AOTS and the Flyhawk Takao set. They didn't agree with each other everywhere and consequently some of the spacing is a bit tight. In all it took about three years, but there were plenty of interruptions to do other builds, mostly because I needed the break from this. IJN ships seem excessively complex to others, great to look at but horrible to put together on occasion.
Accessories used (roll credits):
PE
Flyhawk 700035 Takao PE set (includes main brass barrels)
Flyhawk 700050 IJN brass stripe (2 sets due to reworks)
Flyhawk 700019 IJN railing (not quite enough in the Takao set when cockups are included)
Flyhawk 700093 Turret panels (I ruined one turrets worth in the Takao set figuring out how best to apply these - v. v. tricky)
Flyhawk 700068 IJN AA weapons II
Flyhawk 700069 IJN AA weapons III
Flyhawk 700004 Anti-slip deck plate
Veteran Models VTW70007 IJN ammunition boxes (the Takao set has the MG boxes but this set has the 12.7cm lockers)
Fine Moulds AM-36 IJN Takao set (just a few odds and sods)Pit Road PE-111 IJN Heavy cruiser Takao (just a few odds and sods)
Needless to say, I really like Flyhawks PE, incredible detailed, incredibly petit and incredibly mind-blowing/soul-destroying (depending on day). It 's made from a harder brass which means it quite resilient but on finer parts you only get one fold; if you fold something the wrong way then try and fold it the other way, it's going to snap.

Resin
Veteran Models VTW70010 IJN Fire control set (much better than the PE equivalents provided in the Flyhawk Takao set)
Veteran Models VTW70009 IJN Binocular set (ditto but sadly quite a few broken 'in transit', these are incredibly fragile)
Veteran Models VTW70001 IJN Type 89 12.7cm guns (Incredible set)
Veteran Models VTW70011 IJN Deck equipent set (for the winches and paravanes)
Plastic
Finemoulds WA5 Searchlight set for IJN ships (Absolutely stunning compared to the kit)

Specialist paint
WEM IJN Kure grey
WEM IJN Antifouling red
WEM IJN Linoleum
Modelmaster IJN Green
Modelmaster IJN Sky grey

References
AOTS Takao
Kagero Takao in 3D A "3D CG" book on the Takao entirely in Japanese so I don't have a clue as to what the full title is.
A special thanks to 'DanK' who doesn't know me at all for his "Aoshima 1/700 Maya 1944 - buildus interruptus" which inspired me to see this through to the bitter end. I'd also like to thank my agent, my producer, my..... (sobs)

---
Gallery updated 2012


© ModelWarships.com