The Italian Heavy Cruiser Gorizia
by Chuck Bauer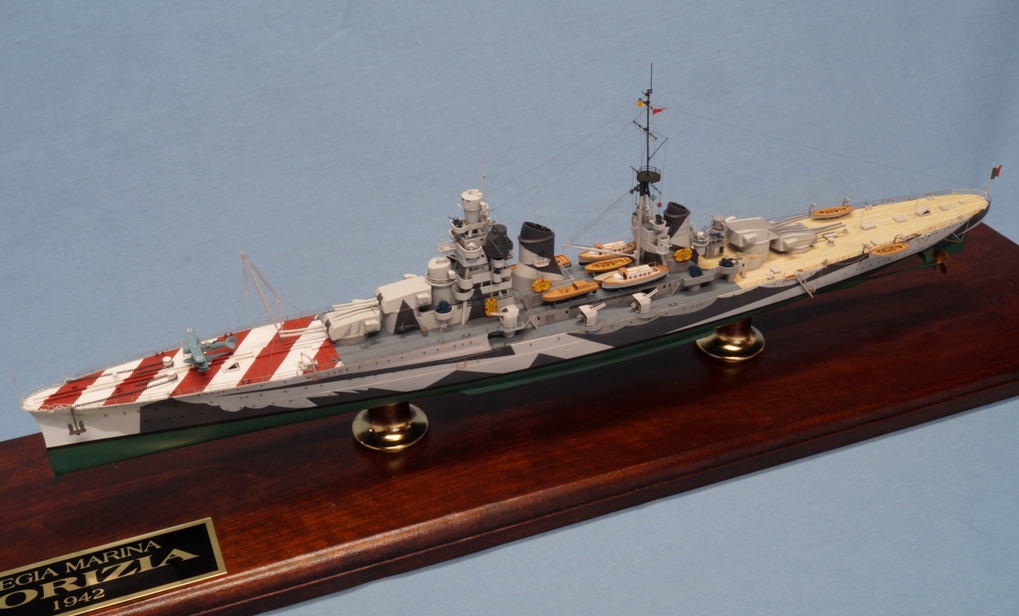 1/350 Italian Heavy Cruiser Gorizia (Trumpeter)
This is my rendition of the Italian Heavy Cruiser Gorizia, depicted in the camouflage scheme which was applied in 1942. The model is the last in my series of Italian Heavy Cruisers, the first two being the Zara and the Fiume:

Like the Zara and Fiume, the Gorizia was named after territory which Italy "acquired" from a neighboring country. In this case, the country was Austria and the territory was the town of Gorizia.
The heavy cruiser Gorizia was launched in 1931 and served actively in the Regia Marina (Royal Italian Navy) until rendered inoperable by the Allies in 1943. She was abandoned and sat idle in the port of Messina until she was scrapped in 1947.
There are many photographs of this handsome ship that show her with and without camouflage. Some of the best ones came from my copy of Steve Wiper's book Italian Heavy Cruisers of World War II, Warship Pictorial No. 23.
The Gorizia was not identical to either the Zara or the Fiume, and those differences—fortunately—did find their way into the design of Trumpeter's 1/350 kit. Unfortunately, the kit's main deck railings are oversized—exactly the same issue as in the other two kits. So once again I had to custom make them, using pieces cut from my inventory of Tom's Model Works two-bar railing frets.
In addition to the TMW aftermarket parts, I used Master Models "Sea Master" turned brass gun barrels and fixed binoculars from a 1/350 Fine Molds aftermarket set.
I did use some pieces from the Shipyards aftermarket set designated for use with the 1/350 Zara kit. But many were specific to the Zara, many were not historically accurate, and many would not (in my opinion) improve what came in the box. So I used less than a third of what came in this very comprehensive package.
Even so, I was still able to bring the model to the level of detail I like, by scratch building things from styrene, from wire, and from inventory PE. (See Summary below)
I used a total of 64 different paints and washes, from such sources as Model Master, Tamiya, Testors and Winsor Newton. Where appropriate, I mixed up my own custom colors.
The rigging was done with several different products:

Modelkasten Nickel Titanium Rigging Wire
Ngineering Ultra Thin Stainless Steel Model Railroading Wire
UNI Caenis Fly Fishing Line, 20 denier


Construction highlights and details

Accurized bridge windows and superstructure deck panels, improved with inventory PE
Square ventilator housings on the stern port quarter, made from inventory PE parts
Scratch built truck light staff and admiral's jack staff atop the forward superstructure, made from wire
Scratch built utility barge on the starboard boat deck
Historically correct motor launches with glassed-in portholes and windscreens
Historically correct markings on the IMAM Ro.43 floatplane, using decals from Giamperio Galeotti's website, Regia Marina MAS.
Boat crane rigging made to match archival photos, using a combination of Shipyard PE and Ngineering Ultra Thin stainless steel model railroading wire
Scratch built jack staff on the bow and ensign staff on the stern, made from wire and Shipyard PE "legs"
Scratch built slop chute from Evergreen stock
Canvas boat tarp made from tissue and thinned PVA
Ropes, red stripes and PE paddles on the life rafts
Scratch built prop guards with rigging lines.

Summary
I used 356 of the kit's parts in building this model. In addition, I scratch built and added 226 details made from styrene, wire and inventory PE. I also attached 287 aftermarket parts from several sources. In total, there are 1,225 pieces in the model.
The project only took 611 hours, even with all the masking for the camouflage, and the fact that I used my plank-on-plank painting technique for the fantail decking. I think this relatively short construction time is due to a learning curve derived from building the Gorizia's sisters. I can't think of any other reason--I never hurry when I build, and I document everything with photos and notes.
Speaking of decks, I did use the wood decks that came in the Shipyard set for the decks on the utility boats. I felt they were to scale, and looked fine after toning down the gaps between the planks. Even though they are different than what is seen on the ship itself, I did not see this as a problem. The ship decking would have always been exposed to the elements, whereas the boat planking would have been under protective tarps whenever the boats were not being used.

This was a very enjoyable build, especially since it now completes my series of 1/350 Italian Heavy Cruisers.
Thanks for your attention.

---
Gallery updated 3/7/2023


© ModelWarships.com