RN Gorizia
by Patrizio Carlucci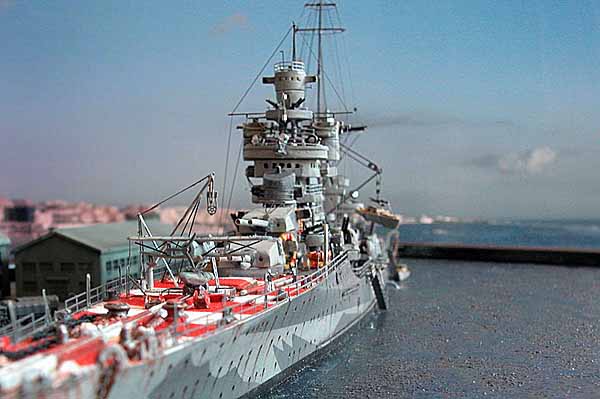 1/700 Italian Heavy Cruiser Gorizia (Delphis)
Patriotism called for a "Regia Marina" (not the company) subject and troubles came with it. Italian warships of the WWII are beautiful but tough subjects under every aspect. At the end, even if not 100% complete, I felt like patience was running over. It has been my first resin kit and the fascination that this media had on me is such that I have an hard time to look at a plastic kit again.
Assembly:
Instructions are vague on some steps, parts descriptions slightly cryptic leaving a lot to the imagination (or documentation as in my case).
Mast and support rods for the decks on the two castles are not provided. The supposed-to-be openings on the decks were these support
rods pass through were barely open and miss-aligned. Drilling them, ...a thrilling experience. Many details have been scratch-built using the resin's flush film. The flying bridge structure and some weapons were damaged during transport. Guns' barrels are cast with the turret, slightly bent and needed a
lot of sanding to achieve an acceptable shape and I didn't have the will to replace. PE is a mix of Regia Marina, GMM (figures and 1/700 Naval ships) and Flagship. The supports with the inverted "V" shapes along the main railings have been made with thin copper wire. In photos I have seen,
this posts served as supports for biminis during particular situations and are present on almost any RM unit of the time.
Paint and diorama:
The camouflage has been air-brushed while the foc'sle hand painted, all using Model master enamels. Weathering made with Citadel colors' inks (chestnut, brown and black) and oil colors for the wood deck. Airplane insignias and ships flag are hand painted. The dock is entirely scratch-built using scribed Evergreen's styrene sheets and beams. The two buildings and the crane are from Skywave. Water is a glass pane backed with a creased aluminum foil, oil painted and coated with acrylic gloss varnish.
Two Japanese books published by Kaijinsha, whose covers are attached, have been my main source inspiration. This website for more historical info on the Regia Marina: http://www.regiamarina.net

---

© ModelWarships.com