USS Olympia
by Roger Antrobus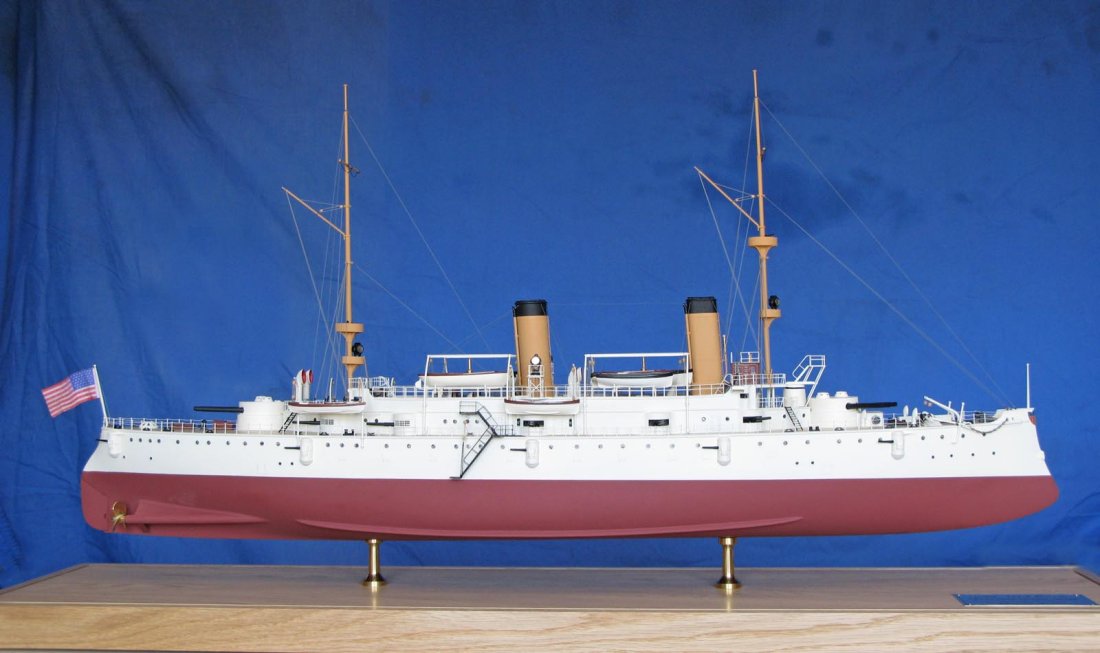 1/128 USS Olympia (Bluejacket/Scratch)
As a change from scratchbuilding, I bought the Bluejacket kit of Olympia, imported from the USA at huge expense. Scale 1/128. This is really a kit of raw materials, wood block, wood strip, brass rods and tubes etc., where 95% of the items have to be 'fashioned' to the dimensions on the plans.
The hull was provided as a solid block of basswood, which had to be carved. Unfortunately the supplied the block was 1/2" too short; trying to add 1/2" at bow or stern is tricky as those areas are the most difficult to carve. The block was not sufficiently wide to carve the tumblehome required by the section plans. As a result I added wood at the stern and on both sides.
The few items that were supplied finished I was not entirely satisfied with and as such were replaced with items built from scratch and self-drawn photo-etch.
The gun barrels supplied were Britannia white metal; I replaced these with my own barrels, lathe-turned from brass, 28 guns in all.
The photoetching supplied had many flaws and was inadequate for my model, so I drew additional sheets of PE detail.
The rigging material supplied was not to my liking so I replaced it with homespun rope from my ropewalk to simulate wire rope.
The portlights provided were 'shoe lace eyelets', out of scale and wrong in design, so I made my usual portholes using brass tube and acrylic rod.
Each hole is drilled in the hull or superstructure, then an aluminium tube 15mm long is inserted and sanded flush - this gives a nice clean edge to the hole. Then a 15mm long brass tube is inserted and left 0.2mm proud, then a 15mm piece of acrylic rod is inserted, having polished and lacquered the end, and poked in 0.5mm==> 120 times!
The acrylic rod is not inserted until the hull has had its final coat of paint
The skylights were supplied as solid resin mouldings. I made my own of clear Perspex so the light would shine through, then applied a photoetched top on to simulate the wooden top; likewise with the circular stern skylight.
I was not satisfied with the supplied ship's boats, I replaced them with my own scratchbuilt boats.
I replaced the supplied rigging material with home spun rope from my ropewalk to simulate wire rope.
In conclusion, it was not really a rest from scratchbuilding; I ended up making much from scratch and correcting so much that I might just as well have started from scratch!
---

© ModelWarships.com