USS Horne CG 30 circa April 1985
by Phil Toy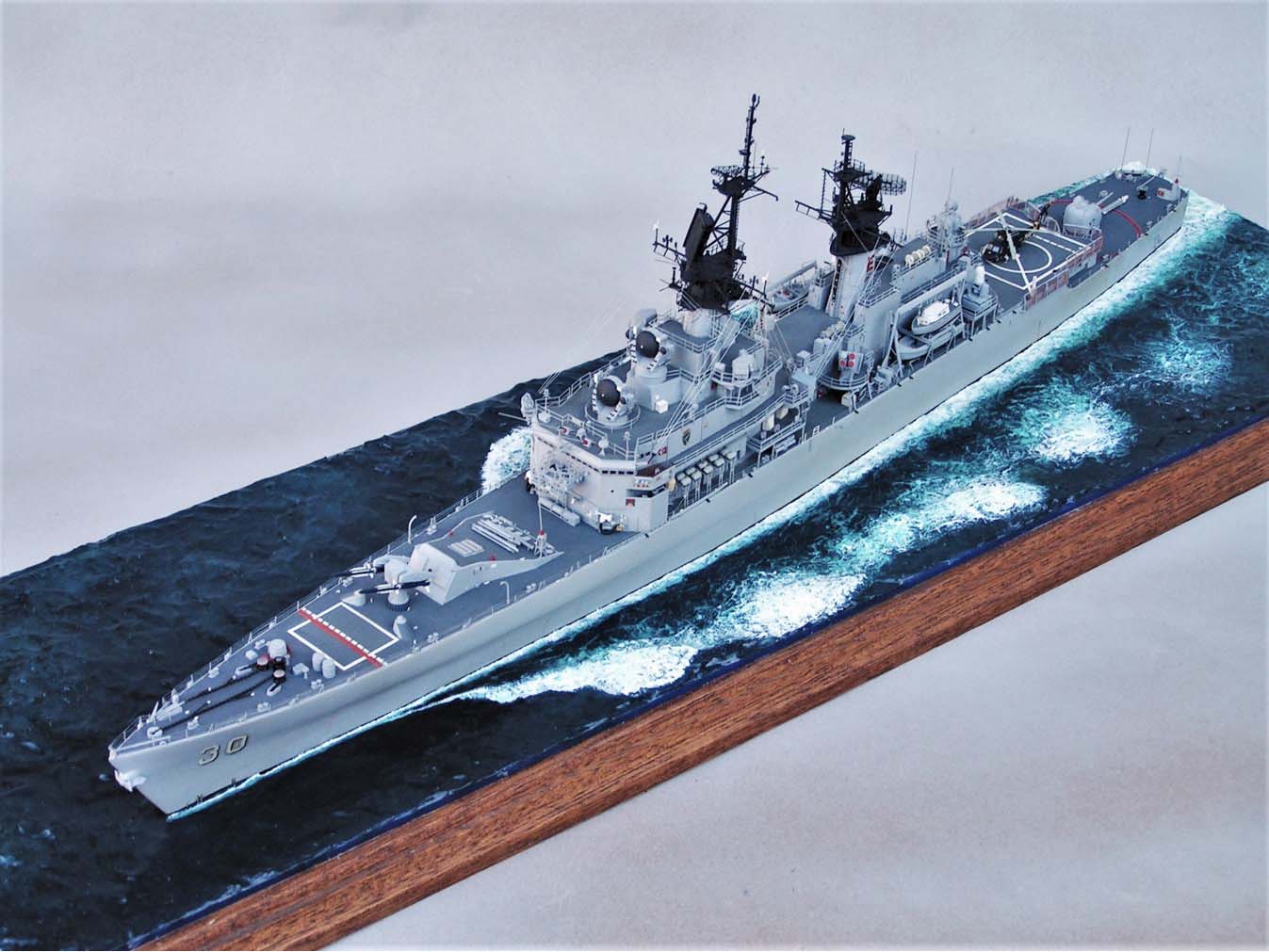 1/311 USS Horne CG 30 (ScratchBuilt)
USS Horne DLG/CG-30 was one of 9 Belknap class guided missile frigates upgraded on June 30, 1975, to guided missile cruisers. The Belknap design began as a smaller ship intended to succeed the CF Adams class but was enlarged for increased endurance and capability until it became easier to modify the Leahy design. Although its hull number is in the middle of the class series, USS Horne was the last to commission. As the last warship completed by the San Francisco Naval Shipyard (Hunterís Point) she was built in a drydock and floated, not launched on 10/30/1964, commissioned on 5/15/1967, decommissioned 2/4/1994, and expended as a target in RIMPAC 2008 north of Kauai on 7/14/2008. She deployed 4 times to Vietnam War zone, 3 times to non-combat WestPac, once to South America, and 6 times to the Indian Ocean, North Arabian Seas and Persian Gulf including Desert Storm.

This model depicts CG 30 as she appeared on April 27, 1985, in San Diego Bay moored to Broadway Pier during an open house. Pictures of that Walk Around were posted to the old SteelNavy.com website. She sported a shield shaped unit insignia that does not match the circular CruDesGroup 3 insignia or a CruDesFlot 3 insignia found on the Web, but does exhibit the numeral 3, with crossed gun barrel and harpoon missile over a trident, and two white 5 pointed stars (denoting a rear admiralís command).

This 1:311 model was scratch built in 1987. The anchor chain was purchased from a model train shop. Hull and structures were fabricated from sheet styrene and plastic rods. Stretched sprue was used for radar antenna, railings, lifelines, and other details. The captainís gig, motor whale boat, and utility boat were scratch built from layers of sheet styrene. Monogramís USS Brooke Kit provided the fuselage for the Sea Sprite Helicopter. There was no helicopter on board during the open house, but a HSL 37 bird was embarked on Horne during the deployment prior to the open house and the squadronís markings from an airshow were applied. Revellís Forrest Sherman Kit provided the 5Ē Mk42 gun mount to be detailed. Gold Medal Modelís 1:350 decal sheet provided watertight door damage control markings, traffic control arrows and other markings. Model railroad decals provided the bridge wing efficiency awards. A womanís nylon stocking provided the helicopter safety netting. Testors Model Master matt paints were used with a Testors Dullcoat overcoat. This evens out the sheen but yellows over time. The waterline model was mounted in a seascape of plexiglass and acrylic gel.
---
Gallery updated 12/23/2022


© ModelWarships.com