USS Port Royal CG-73
by Matthias Pohl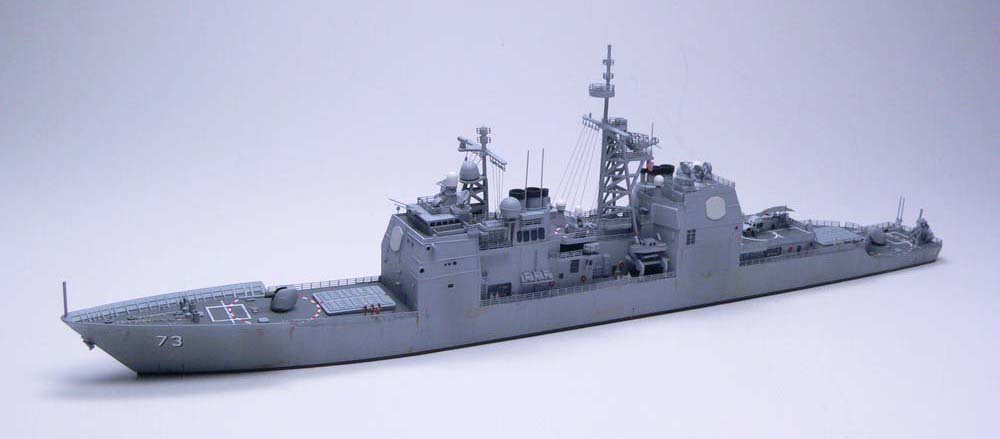 1/700 USS Port Royal CG-73 (Dragon)
These two Ticonderoga-class cruisers are the start of my new project. I would like to built the USS Nimitz carrier strike group from 1998, during the operation "Southern Watch". To this CSG belong too: USS Benfold DDG-65 (Arleigh Burke class), USS Kinkaid DD-965 (Spruance cass), USS Ford FFG-54 (Oliver Hazard Perry class), USS Sacramento AOE-1 (fast combat support ship, lead ship of her class) and USS Olympia SSN-717 (Los Angeles class).
USS Port Royal CG-73 and USS Lake ChamplainCG-57, the two Aegis class cruisers were nearly built out from the box. I used the USS Monterey CG-61 premium kit (kit #7067), which has some PE-parts added. In addition I used the Eduard PE parts, except the helo nets. Eduard made them in a wrong shape, they don't fit at all! The Pe parts from the kit are much better!
A little conversion was done at the quarterdeck, which has a different arrangement of radar domes than the kit. I constructed a little platform from plastic sheet to fit starboard of the hangar.
The rigging was done by using a single nylon fiber (from a lady's pantyhose...). A little bit of washing, not too much, adding of some ready painted sailors from Eduard and that's it!
---
Gallery updated 2012


© ModelWarships.com