USS California CGN-36 circa April 1988
by Phil Toy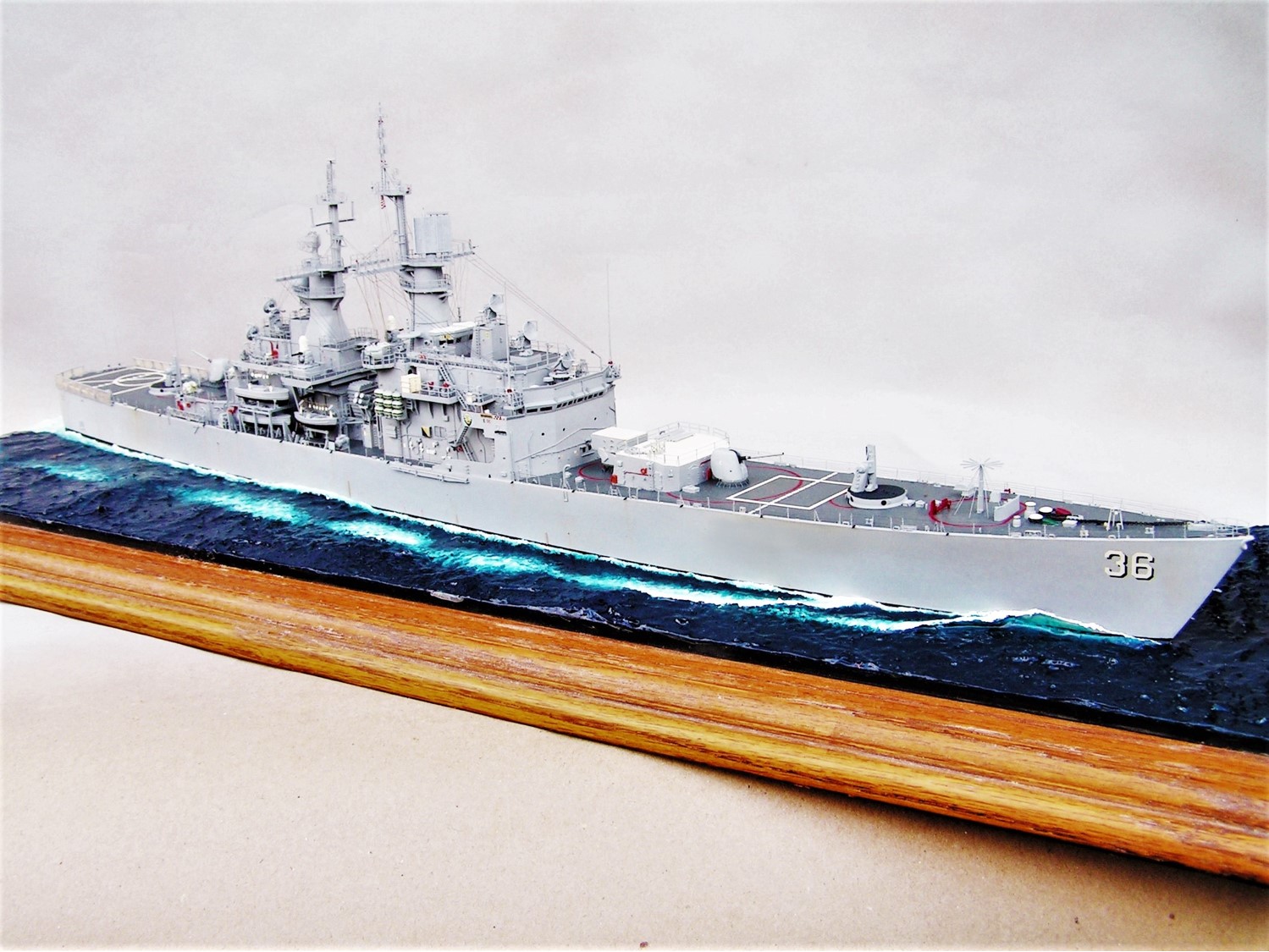 1/311 USS California CGN-36 (Scratch Built)
USS California DLGN-36 was the lead ship of the first multi-hull class of nuclear powered guided missile destroyer leaders. Designed to provide high endurance air defense and ASW protection for the planned Nimitz class nuclear powered aircraft carriers, she reverted to a double ended SAM launcher configuration (Tartar instead of the slower firing Terrier) with separate ASROC launcher forward. Like the contemporary Knox DE, a power reloading magazine was provided for ASROC and her twin 12.75 inch ASW torpedo tubes were mounted in the aft superstructure with weather protected reloading. Like the Knox the main anchor was housed in the after end of the bow SQS26CX sonar dome. She was reclassified on 6-30-75 from DLGN to CGN. Despite an expensive combat system upgrade and nuclear refueling, the class retired early because of high operating cost caused by her large crew complement which included expensively trained nuclear engineers.
Launched 9-22-1971 by Newport News Shipbuilding and Drydock, she was commissioned on 2-16-1974 in her initial homeport of Norfolk, VA but enabled by nuclear power deployed to the Indian Ocean, as well as the Atlantic and Mediterranean. In 1981 she circumnavigated the world. In September 1983 she changed homeport from Norfolk to Alameda, CA and in 1987 completed a second world circumnavigation. From 1990 to 1993 she was non-deployable in the yards to install NTU and be refueled, but after only 2 more deployments was deactivated 8-28-1998, decommissioned 7-9-1999, and scrapped by 5-12-2000 at Puget Sound Naval Shipyard in Bremerton. She did outlast the succeeding Virginia class CGNs which had not received the expensive refueling.
This scratch-built 1/311 model was built in 1995 from sheet styrene, Evergreen styrene rod and tube, and detailed with stretch sprue. This model depicts CGN-36 as configured on 4-1-1988 when she entered San Diego Bay. A woman's stocking was painted and cut for the fantail helicopter safety net. Model railroad 40 link/inch chain was used for the anchor chain. Model railroad decals and Gold Medal Decals were used. The CruDesGroup 5 Insignia was photoshopped and printed on white decal sheet while the UNREP station markings, and ship's signalman's shelter call sign flags were hand painted on white decal sheet. The national ensign was hand painted on a piece of aluminum foil. The ship's insignia was painted on a styrene disk and placed on a portside 01 deck amidship deck (normally mounted on the 03 railing outside the after most SPG51 antenna when in port). All radars, weapons, and boats were scratch built. The model was mounted on blue plexiglass textured with gel medium, painted with acrylic paints, and finished with gloss varnish.
---
Gallery updated 6/7/2023


© ModelWarships.com