USS Atlanta CL-51
by Dakota Gorder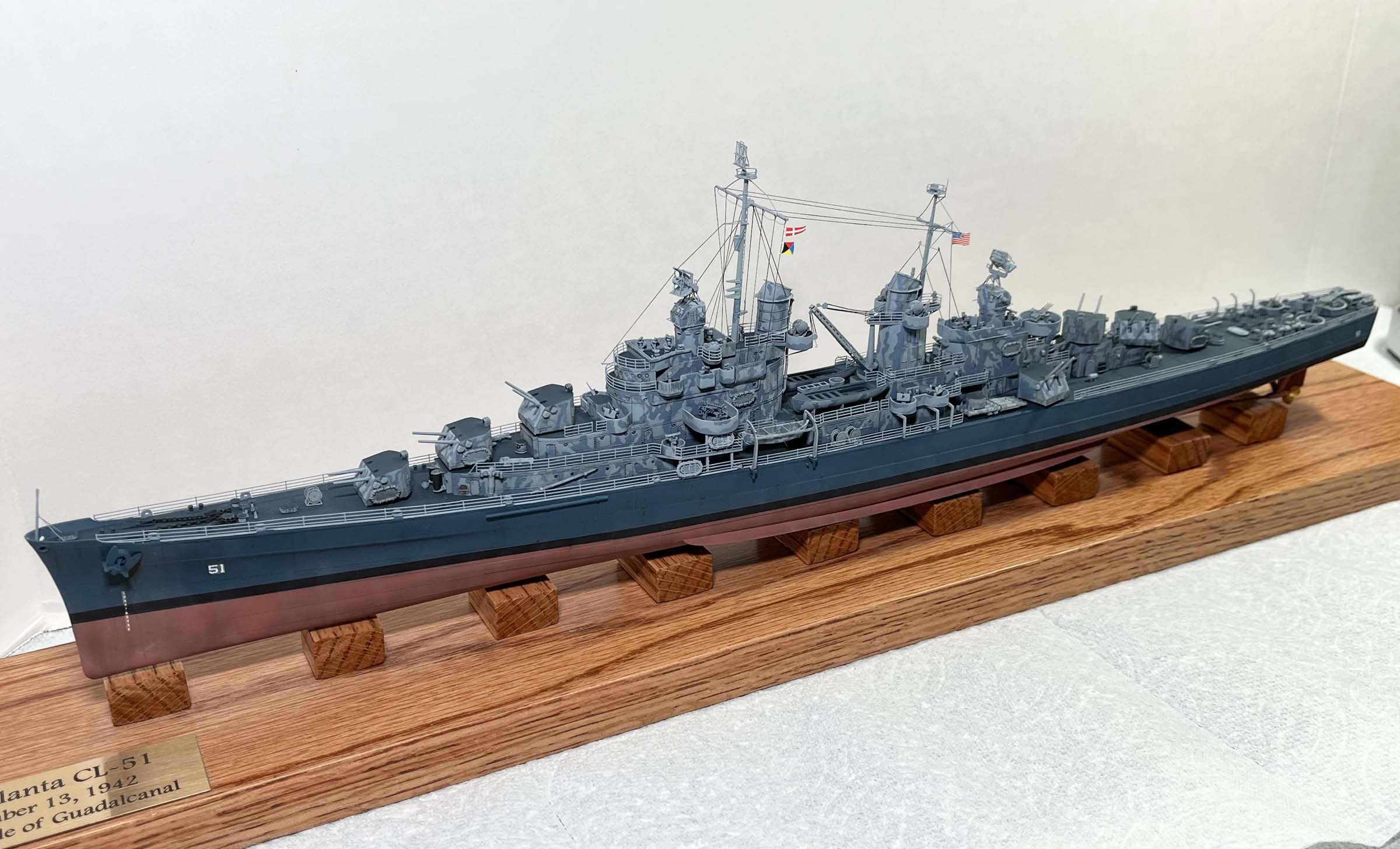 1/350 USS Atlanta CL-51 (Veryfire)
This is my complete USS Atlanta from Veryfire as lost at Guadalcanal. I can't say enough good things about this kit. I have wanted an Atlanta in plastic for many years and even tried one in resin, but this kit is worth the wait. The detail and fit is incredible for plastic and I never used putty once. I used black cat's 3d printed parts for the AA fit but that was for convenience, the ones in the kit are splendid. The only accuracy issue in the plastic I could find is a missing hole in the bow for the paravane shoe and the 3 bladed screws. I couldn't source any 4 bladed screws so I will replace them when I can find some. The anti-skid matts are out of scale but under a coat of dark paint I don't find them noticeable, same with the hull plating. The full complement of ships boats is excessive as she lost most of her boats by reaching the Pacific but including them is a nice touch. The photoetch is where things get interesting from an accuracy standpoint. As far as I can tell Atlanta didn't have a boom on the superstructure deck 01 and it definitely did not have nets on the back of the 5 inch turrets but you can easily leave these off. Overall, this was by far the most enjoyable 1/350 ship build I've done beating out dragon's Scharnhorst. But be aware, some of the parts for building the cable reels are numbered wrong.

Painting was the hardest part but I was determined to get it right. Atlanta carried one of the most unique attempts at Measure 12 Modified of any ship in the US Navy. Often it is depicted on models as irregularly spaced splotches but photos clearly show it was mostly a complex, interconnected pattern of Haze Grey and Ocean Grey. Getting it exactly right is impossible, but I am very happy with how it turned out. Photos of the scheme are limited but Ian Robert's art of Atlanta served as my key reference. Paints are Colourcoats enamels and I used a 0 brush followed by a pinwash.

Overall I can't say enough good things about this kit.I have read other modeller's critiques and they are perfectly valid, but I also think we are getting a bit spoiled as ship builders. Comparing it to most kits from two decades ago is day and night compared to fit and detail. Shipbuilding can often feel like a chore even if the result is worth it. I can say I enjoyed every minute of this build.

Aftermarket- blackcat AA fit, eduard flags

Paint- colourcoats


Happy building!!




---
Gallery updated 5/17/2023


© ModelWarships.com