HMS Penelope
by Adrian Flueckiger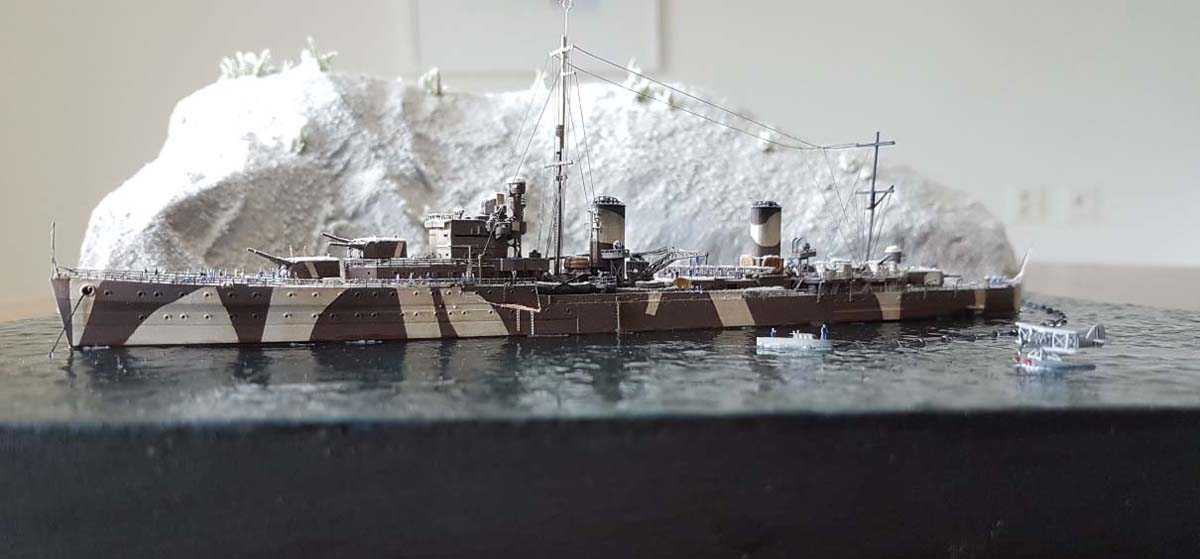 1/700 HMS Penelope (Flyhawk)
HMS Penelope was my first Flyhawk model. As soon as I had opened the box I fell in love with all those tiny but excellently moulded bits and pieces. No wonder that I was eager to start working on a new diorama which would feature that nice little kit.

At the beginning, I must admit, I wasnít really fond of the camouflage proposed and I rather wanted to apply a more elegant scheme. Luckily I failed from the very word go and I had to repaint the hull. That was, when I decided to try a winter diorama. As far as I know there can hardly one be found, if speaking of ships and sea dioramas.

After having built the model, I used NOCH snow effects to apply several layers of snow, which I fixed, drizzling transparent varnish over it. In my opinion itís important, not to apply to much varnish, as the snow tends to change character and looks to ďstonyĒ. Another aspect I would like to draw your attention to, is the application of the snow on the diorama, which is preferably done after having painted the sea but before applying any kind of water effects or putting the ship into the diorama.

Letís cut things short. My diorama features HMS Penelope during her Norway campaign, when she hid in a fjord using that unique pattern to go unrecognized by the Germans. In my vision some sailors are rearranging an anti-torpedo net that has drifted off a bit, while others are trying to get rid of all the snow on deck of their ship. In the background a small reconnaissance party has debarked on the shore of the fjord.

I really liked to do this diorama and hope, you will enjoy browsing through the pictures and taking up some ideas for your own projects.
---
Gallery updated 5/13/2019


© ModelWarships.com