IJN Light Cruiser Yahagi 1945 Ten Ichi Go Operation
by Anthony Alvear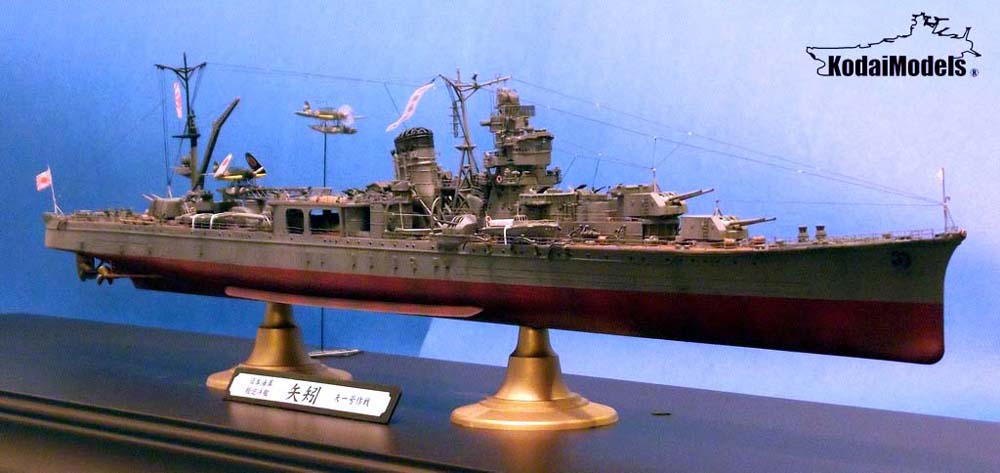 1/350 IJN Light Cruiser Yahagi 1945 (Hasegawa)
This is my version from Light Cruiser Yahagi, with:

Generic etch
Flyhawk railings, ladders and inclined ladders,
Lion Roar ladders,
life buoy from Dream models,
radar from Rainbow models,
antenna from MK-1,
25 mm singles type 96 from Veteran Models,
binocular set from Veteran models,
Barrels from Master Models,
radial davits and reels from Flyhawk,
depth charge from Rainbow Models,
Catapult from MK-1 Models,
utility Boat set from Tamiya,
searchlight set from Fine Molds,
watertight door from Bigblue Boy Models,
scratch with Plastruct improvements,
complete photoetch set from Rainbow models for planes, invisible thread .004 mm nylon, brass pipe improvements,

300 hours work in five+ months, 740 parts aprox. weathering from Master set B Tamiya and pigment.

Reference; Imperial Japanese Navy Light Cruisers 1941-45, Mark Stille.
Anthony Alvear
---
Gallery updated 2/8/2017


© ModelWarships.com