IJN Noshiro
by Dan Kaplan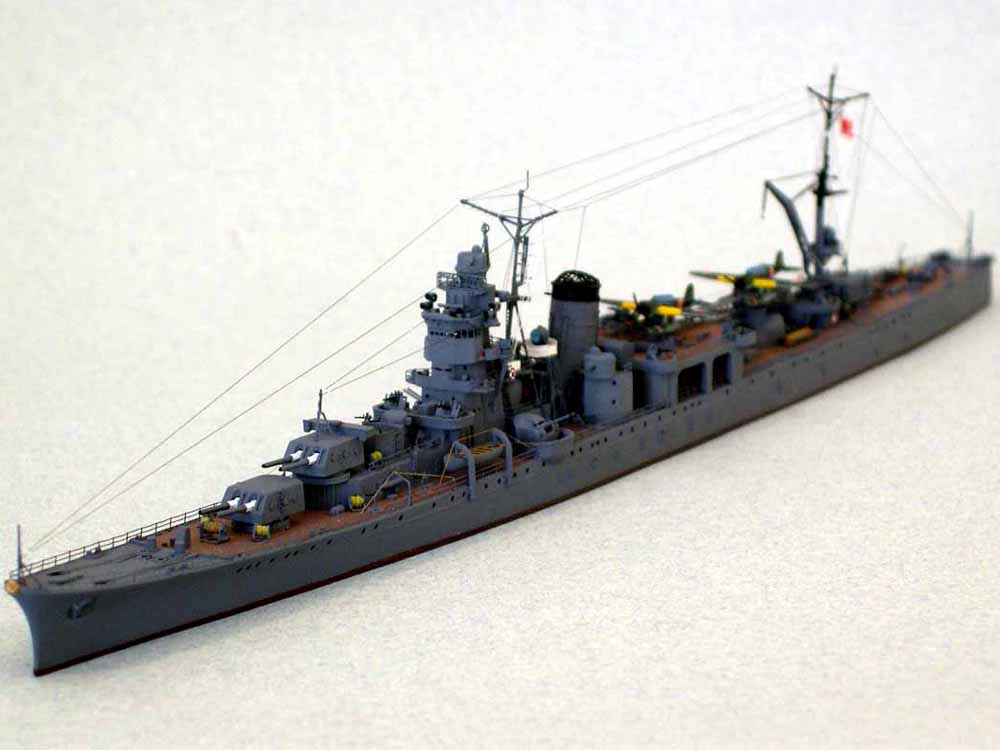 1/700 IJN Noshiro (Tamiya)
Pictured is the Japanese light cruiser Noshiro in the fall of 1944. This is the Tamiya Yahagi tooling with a generous helping of corrections, scratchbuilding and photoetch, including the very fine basic Agano class fret from Joe World. Special care was taken to drill out all ventilators and replace with brass mesh. The masts are completely scratchbuilt. Rigged with Dai Riki 9X .002".
Of particular pride is the fact that I extrapolated what I firmly believe to be her correct final fit from conflicting data. Shortly after completion, Model Art #19 was released with corroborating line drawings based on recent research.
Noshiro took best of show at MosquitoCon, 2006. That was a complete and utter surprise, given the truly fine models at that show.
Painted in Kure Grey, hull red & IJN linoleum
References
Lacroix & Wells "Japanese Cruisers of the Pacific War"
Shizuo Fukui 2 volume set & Vol.3 IJN Cruiser
Kure Maritime Museum – IJN Cruiser volume
Miyukikai plan set, Noshiro 1943, 1/200
Hara Shobo plan set, Yahagi 1943, scale unknown
Gakken #19 on Kagero class DDs, Yahagi CL
Model Art Ship Modeling Special # 1, 3 & 19, Agano Class CLs
Maru Special # 5, 123
Gran Prix Shuppan Anatomy of IJN Cruisers
Kojinsha Mechanisms of IJN Cruisers
Model Art vol. #360, Drawings of IJN Vessels - Cruisers
Grand Fleet website, IJN light cruiser gallery - http://www.h5.dion.ne.jp/~g-fleet/ijnlightcruiser.htm - see Agano
Vanguard website, IJN light destroyer gallery - http://homepage2.nifty.com/vanguard/intro/main2.htm - see 1250 scale Agano class
---

© ModelWarships.com