USS Yorktown CV-5
by Gordon Bjorklund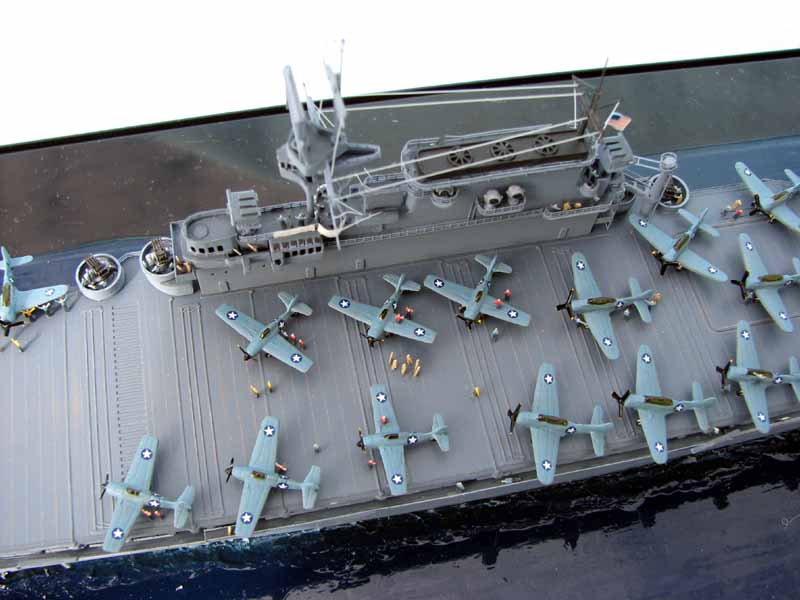 1/700 USS Yorktown CV-5 (Tamiya)
This is my model of the USS Yorktown CV-5 as she was on the morning of June 4, 1942 while preparing for the Battle of Midway. On the flight deck is the mornings second CAP group preparing to launch (six F4F's) followed by the mornings first strike force comprised of SBD's and TBDs. The F4F fighters that will cover the strike force will be brought up onto the flight deck and launched after the TBDs have launched. The Yorktown is painted Ms 12 graded.
This build is comprised of the following components:
Tamiya kits # 77514 USS Enterprise and # 77510 USS Hornet
WEM pe #755 USS Enterprise/Hornet
Trumpeter Aircraft: # 3402 SBDs; # 3403 TBDs; # 3404 F4Fs
Gold Medal Models #700-17 Naval Figures
Testors Acryl Naval Paints (Ship): # 4240 Sea Blue 5-S; # 4239 Ocean Gray 5-O; # 4238 Haze Gray 5-H
Polly Scale Paints (aircraft): # 505268 Blue Gray (35189); # 505394 Light Gray (36622)
The replacement search lights are from Skywaves USN Naval Accessories set # SWE06
The replacement 1.1" guns are from Trumpeter's USS Lexington kit.
The 20mm guns are from Corsair Armada.
The canvas shields on the railings are made from tea bags.
Rigging is stretched sprue.
---

© ModelWarships.com