USS Hornet CV-8
by David Flynn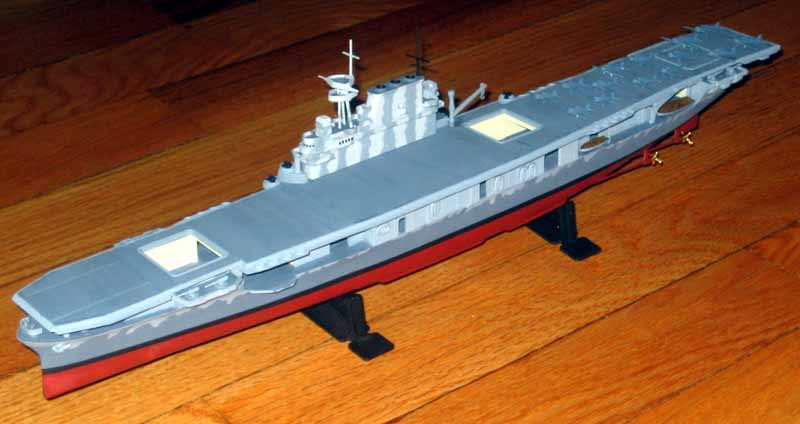 1/600 USS Hornet CV-8 (Aurora)
I converted the Aurora Enterprise to the Hornet. I also upgraded the realism of the model a little by adding bilge keels, reshaping the bow, adding a hanger deck, cutting open many hanger doors, cutting open two elevators, drilling open the funnels, scribing a wood texture to the flight deck, reshaping the rudder, adding joists under the aft end of the flight deck, and so on.
To me the most obvious difference between the Enterprise and Hornet is the rounded bridge on the Hornet. This came from a 1/700 USS Atlanta light cruiser, and fit nearly perfectly. The newer 5-inch gun directors came from a built Aurora St. Paul heavy cruiser I bought on Ebay. The platform under the bridge came from two Revell USS North Carolinas. The searchlights are also from the North Carolina. The platforms are from a poorly built Aurora Enterprise that I bought for parts years ago. The large life rafts are from the Airfix HMS Ark Royal aircraft carrier; the medium ones are from an Airfix HMS Belfast light cruiser, and the small ones are from a 1/700 Atlanta.
My goal was to keep it looking like an Aurora kit rather than make it very detailed or accurate. I used Aurora's parts such as guns, boats, planes, cranes, propellors, and walkways. And I did not replace the crude, moulded-on .50 caliber machine guns.
The paints are Testors acrylics except for the propellors which are painted in the regular Testors gold. I tried to match the colors of models of the Hornet I have seen on this website. I tweaked the two of the grays to be a little more blue, but now the "Intermediate Blue" of the planes seems too similar to the ship. I decided not to mark the flight deck for the Doolittle raid inasmuch as I have no B-25s to put onboard. The only other 1942 photos I could find show no markings.
I started in November, and am not quite done. I still need to find three radar aerials, and add decals. I am reasonably happy with the outcome, and the model goes well with my models of the Enterprise, Wasp (CV7), and Ark Royal in the same scale.
---

© ModelWarships.com