CV-8 USS Hornet
by Jon Iverson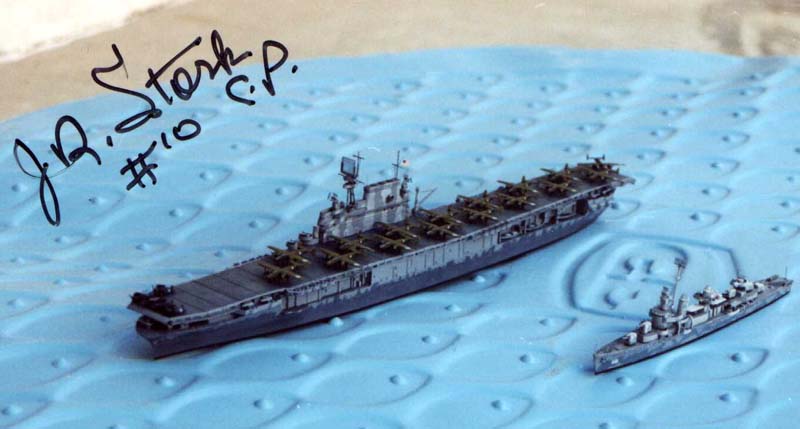 Tamiya 1/700 USS Hornet and USS Fletcher.
The PE sets on both ships are GMM. I have added .006 brass for the radio antennae.
Just to perhaps make you a little green with envy. I went to the last Doolittle Raider reunion/air show to ever be held today in Fresno, Calif. I met the co-pilot of B-25 plane #10, Lt. J. Royden Stork. He signed my attached picture and I have scanned some additional photos from Destination: Tokyo by Stan Cohen so you know who he is (in case you didn't have the book).
Kudos to the guys at Snyder and Short (Randy Short especially!) - Aside from me having their paint chips, Randy gave me the formulas for mixing the modified measure 12 on Hornet Randy told me the hull blue was actually 5N Navy, not the 5S sea blue in the specs. He told me that after using the 5S for a while in 1942 on very few ships, the USN abandoned the paint as it did not weather well at all and the blue pigment was far to fugitive. So, from early(?) 1942 on, the USN used 5N on the hulls for all their measure 12 patterns - an FYI in case your interested). At any rate, I have bored you enough with stuff you probably already know. Randy is such a great source of information-I've just got to share it.
(editors note: Yes we are green with envy, and thanks for sharing)
Please feel free to contact Jon Iverson if you have any questions.
---

© ModelWarships.com