USS Coral Sea CV-43
by Mark Mckinnis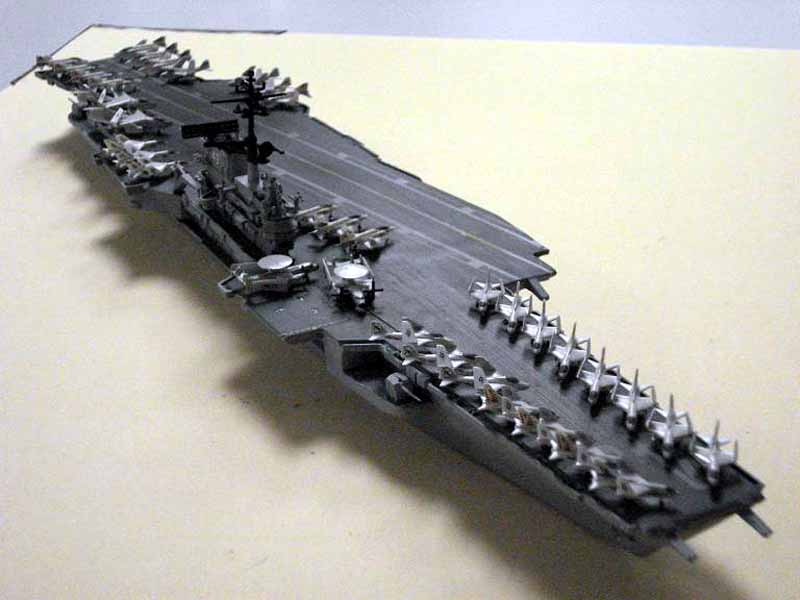 1/720 USS Coral Sea CV-43 (Arii Kitbash)
This is a 1/720 model of the Coral Sea around 1970 with CVW-15. It started life out as a ARII 1/800 kit of Midway and got cut into three pieces and stretched to the correct length. I did not feel ambitous enough to cut it down the middle and widen it to the correct width.
I used the 1/700 Skywave Modern Aircraft Kits to do the A-7s,A-6s and the E-2s. I used Fujimi 1/700 F-4's and F-8s. It was easy to do the decals because both kits have CVW-15 and CVW-8 decals for the jets. I carefully cut out the "AJ" tail letters on the CVW-8 deals and replaced them with my own "NL" tail letters to make it all correct. The two A-3s are also Skywave Metal kits that I got before Trumpeter made life easier with their 1/700 aircraft sets.
The re-worked sponsons are balsa wood and the guns come with the kit.
I have also included a photo of her two sisters as well.
---

© ModelWarships.com