USS Enterprise
By Pekka Rautajoki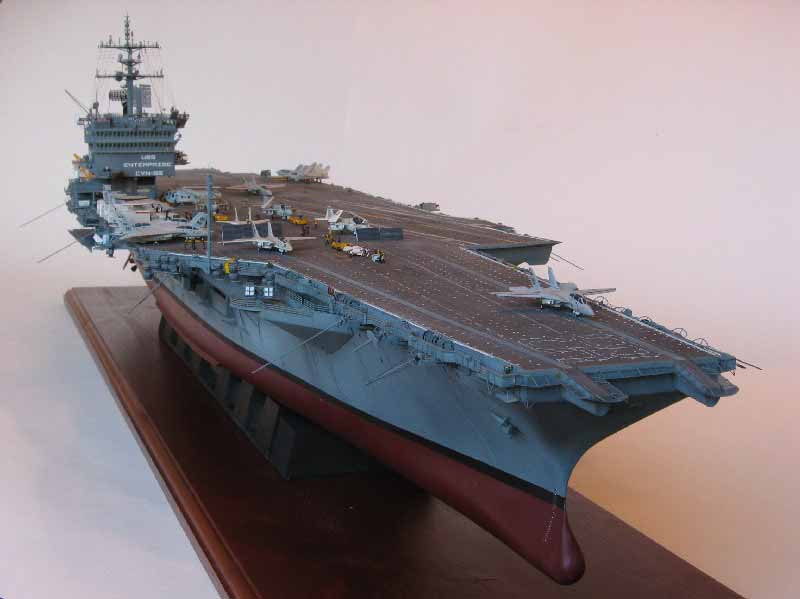 1/350 USS Enterprise CVN-65 (Tamiya)
This model won the best of the show award at the Helsinki Model Expo show April 2004 here in Finland.
Some details of the project:
I started building the model already in 1993, with the idea of adding some railings myself as were shown in a couple of nice Tamiya catalogue pictures from late 1980s. Then came the first Gold Medal Models photoetched parts, and I managed to get my hands on a couple of reference books: Airwing Enterprise and Kinzey's USS Enterprise in detail and scale. Add to the mix the term "museum quality model", and I found myself wanting to update all parts of the model to the same detail level. Fast forward 11 years, and here we finally are...building with the reference books, I was forced to discard most of the original Tamiya parts. The motto was "too few wrong-looking parts in wrong places"...
I have scratchbuilt the hangar deck with lights, and understructure for the four elevators. Although not readily evident from the photos, the bridges have interiors, too. Life raft canisters were cast from resin, and the canister support racks I had etched for me, as well as the elevator gratings (at the time I did those there were no commercial alternatives available). I have utilized some parts of the first GMM Enterprise set, and all of the later edition of the GMM set - as well as the WEM Enterprise set (the ship). I also had pylons and other aircraft parts made for me earlier, before the WEM airwing set came out. The ship has four sets of GMM crew members on board.

---

© ModelWarships.com