FN Charles de Gaulle
by Paolo Yuen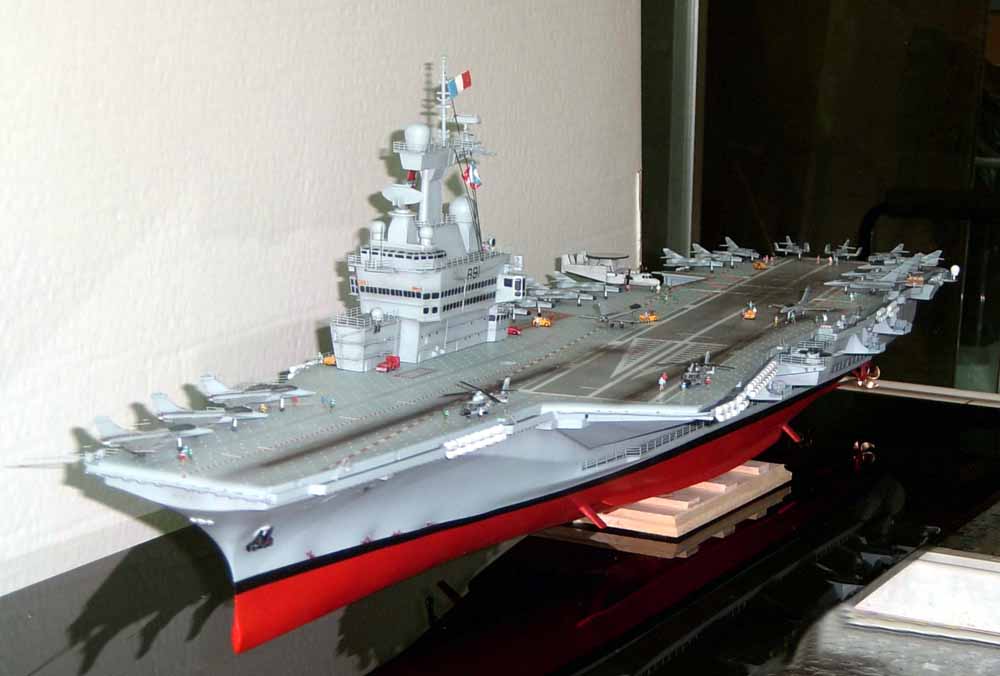 1/400 FN Charles de Gaulle (Heller)
This model is a very simple kit, and easy to build. The only references I had were the Japan published the Aircraft Carriers of The World and official French navy site. On the hull I made a hanger and some walkways beside the elevator. The island did not have much done to it, only adding some catwalk and ladders.
The flight deck was a big job. I first cut off the safety net, and replaced using plastic roll. The Lion Roar released one is very good, easy to bend near 90deg and black metal net to make the safety net. Then I used Autocad to draw the tie holes and remark the cats 1 & 2. Why go to so much trouble? Because the lines marking the area do not match the runway decals, and I wanted it detailed, so I remarked the cat 1&2 to match the decal, then printed out the tie holes pattern and covers on the deck, then started to drill!
For painting, I have used the Tamiya Spray Light Ghost Gray and Mr. Hobby 36 for the walkway; air wings is Mr. Hobby 307 and 308, the Hawkeyes are 315.
The Hawkeyes, crew, railings are oversize, but I can't find better materials for 1/400 scales; only 1/350 is closest.
The price for the kits and other materials is not too high, it makes for a very fun build up!
---

© ModelWarships.com