HMS Victorious refueling at sea 1943
by Frank Spahr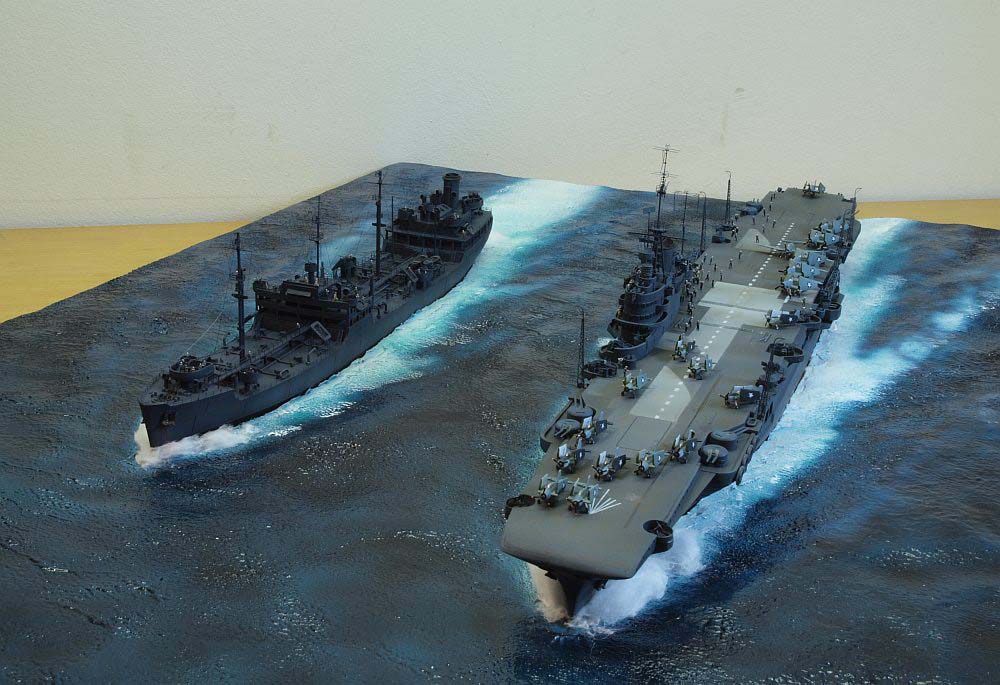 1/400 HMS Victorious 1943 (Heller)
This is the 1:400 Heller kit of HMS Illustrious, built as HMS Victorious during her service with the US navy in the Pacific in 1943. She was issued with US aircraft in US paint and markings, and was refitted with numerous US equipment, from additional AA over directors, radars and other electronic equipment. She was also repainted in Ms. 21. Her crew received US uniforms and even creature comforts like soda fountains and icecream machines. During her time with the USN in the Pacific, she operated together with USS Saratoga, the then only US carrier there. Due to her smaller size, at times she operated with an all-fighter airwing, whilst Saratoga operated bombers and torpedo planes.

The model needed a lot of work and modifications. I consulted various websites and the very helpful AOTS volume on Victorious. A lot of aftermarket was needed, beginning with the WEM PE set, a resin correction set for the island (sadly OOP), a lot of items from L´Arsénal (aircraft, AA guns, directors, liferafts and much more), plus even some new-fangled 3D printed items, namely excellent ship´s boats. I also bought a Punch&Die set after all and found it quite helpful in making wheels for the aircraft, to name just one thing. Apart from the aftermarket, quite some modifications and scratchbuilding were needed.

The model was painted with various acrylics, the paint scheme for the flight deck is guessed from several photos available on the net. Aircraft disposition and paint schemes were also determined based on these images.

To add some more interest, I added a tanker closing in for a RAS manoeuvre. I used the old Revell T2 tanker kit, which scales closely to the carrier. This kit also needed a lot of work. Molded on railings needed removing, and quite some clunky details needed refining. The vessel´s fit is generic at best and does not represent any individual T2.

This was my largest project so far and kept me busy for almost a year.
---
Gallery updated 4/5/2019


© ModelWarships.com