IJN Akagi
by Ashley Wilson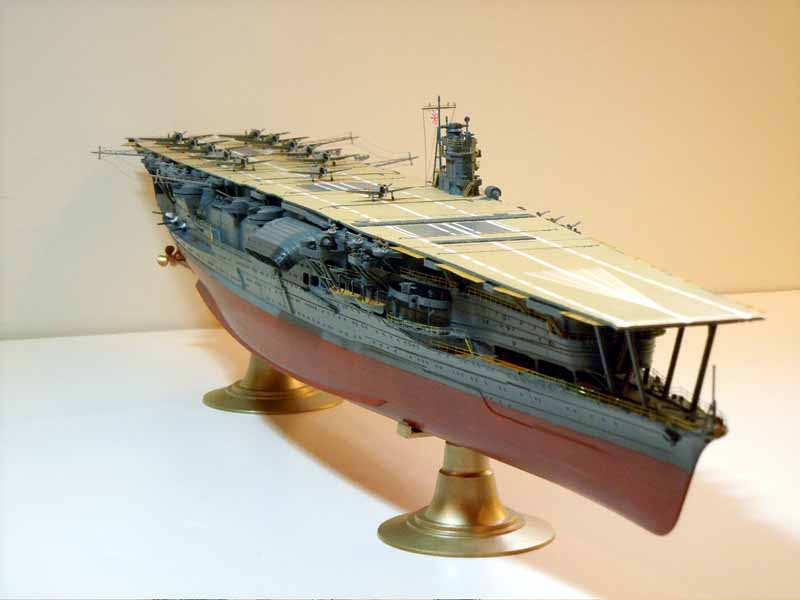 1/350 IJN Akagi 1941 (Hasegawa)
This was a great kit, as per the many excellent reviews. Very impressive detail and a pleasure to build.
I used Hasegawa's Photo-Etch Basic Detail Set A and Set B only. All other parts are out of the box and no extra aircraft.
Hand-painted using Tamiya and Model Master acrylic paints; I left the photo-etch deliberately unpainted brass to give a stylized look and give the effect of metal work on the ship.
Radio masts left movable to show flight deck operations mode or raised. Stretched sprue for the rigging, cables and arrestor cables.
Many thanks to Wheels & Wings Hobbies in Toronto where I got the kit, supplies and some of the books and reference material.
Credit also to Faatestbook for being a great bookseller on weapons / WW2 themes and providing many of the great Japanese photo/3D books.
Finally, credit to Grandpa's Cabinets for the display case and to ModelWarships.com for being a great resource for model warships.
---

© ModelWarships.com