IJN Zuikaku
by Dan Kaplan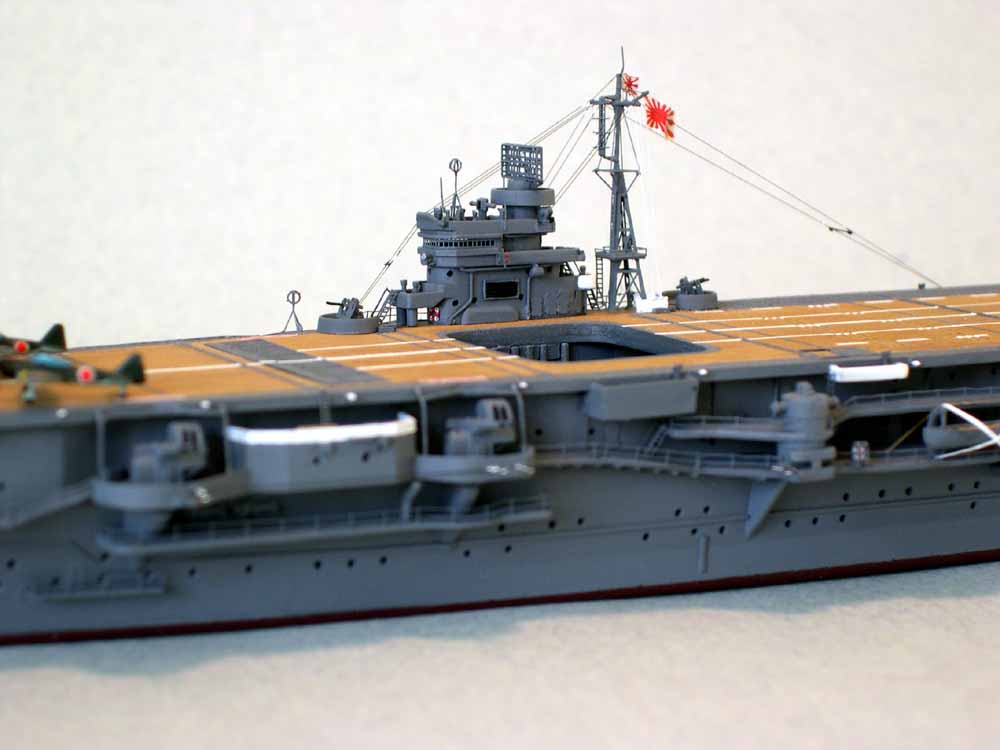 1/700 IJN Zuikaku (Tamiya)
I've always had great affinity for Japanese aircraft carriers, especially the Shokaku class. Shortly after the turn of the last century (doesn't that sound bizarre), I made a conscious decision to attempt building model that would represent the best possible effort that I could make at that time, utilizing every new technique that I could master, and every appropriate PE fret I could obtain. I wanted it to be a carrier, and I chose Zuikaku in her June, 1944 fit at the Phillipine Sea.
In truth, this model took the better part of 3 years to build, on and off. In the interim, I purposely built other ships, predominantly destroyers, to experiment with painting and PE application techniques . I also did a lot of research to attempt a high degree of accuracy.
One key area of research was the flight deck color; there has been, and continues to be, conflicting information about the type of wood used and the color of the deck. There were a lot of false starts and stops in this area. I went so far as to correspond with several Japanese and Japan based modelers on this topic.
While the earliest carrier fits might have experimented with different woods, by the time of the Pacific war, IJN CV flight decks were made of bei-matsu, which translates as ancient pine. It is a particular color, a sort of orangish-tan with golden tones. (Not coincidentally, this description best matches what Dick Best reported as the color of the Japanese flight decks following his attacks on the Kido Butai at Midway.) Anyone familiar with any of the Gakken books on IJN carriers can attest to this color. Some on-line wood flooring sites also show color swatches. It took close to a year to come up with a custom mix of paints, with a burnt umber wash, that was satisfactory.
About a year after it was completed, in a moment of extreme& incredible stupidity, I accidentally wrecked the original mast and Type 13 radar array. To say that I was upset is an understatement. These photos show the rebuilt mast and radar array.
I'm pretty happy with the result though, as always, there's a few flaws in both finish and accuracy. Some things did not come apparent until after the model was finished. (I'll never tell.) I did figure a simple fix for the one flaw that bothers me the most but that happened AFTER it was done, & there's no way to fix it now. Details

Tamiya 1/700 Zuikaku kit, Tamiya/Leviathan & PitRoad equipment sets

Photo Etch from GMM, Tom's, Fine Molds, Hasegawa, Joe World;
Railings, doors, hatches, bridge windows, ladders, main mast base, radio aerial masts, aerial outriggers, netting, landing light arrays, life preservers, 25mm AA shields, Type 21 radar, boat crane hooks

Scratch built (from styrene unless noted otherwise)
Main mast top, jack staffs, antenna, piping & vents from brass rod (.016, .01, .008, .006")
#1 & 2 elevators & elevator shafts
Corrected flight deck (deleted planking, arrestor cables) per references
Flight deck edge runoff drains and drain pipes
Corrected sponsons per references
Funnel & air induction ventilator coverings from brass mesh
12.7cm HA mounts – stiffeners and bases
Aft portside power turrets -12.7cm & 25mm
Aircraft radial engine test stands (2) from PE & styrene
Degaussing cable
Deck lighting – deck edge & night landing/ops – paint & styrene strip
Canvas coverings (paint)
Boat straps (paper), boat rigging
Port and starboard look out stations, running lights
Drilled out portholes (per references)
Rigging & aerials (per references) – Dia Riki .002"
Painted in Kure Grey & hull red. The flight deck is custom mix of Tamiya paints with wash of burnt umber over Future Decals: Tamiya Shokaku, PitRoad IJN 1/700 decal sheet, Fujimi IJN CV decal sheet
References
Gakken #13 – Shokaku class CVs
Gakken Deluxe vol. 3 – 1/100 Superscale Aircraft Carrier Zuikaku
Gakken Perfect Guide to IJN CVs
Futubasha Super Detail 3D CG Shokaku Class CVs
Maru Specials #s 6, 129, 130
Gran Prix Shuppan Anatomy of IJN CVs
Kojinsha Mechanisms of IJN CVs
Model Art vol. #505 – 1/700 scale Shokaku
Miyukikai 1/200 plans – Zuikaku, 1945
Vanguard website, IJN aircraft carrier gallery - http://homepage2.nifty.com/vanguard/intro/main2.htm
---

© ModelWarships.com