USS Haraden DD-183
by Martin Quinn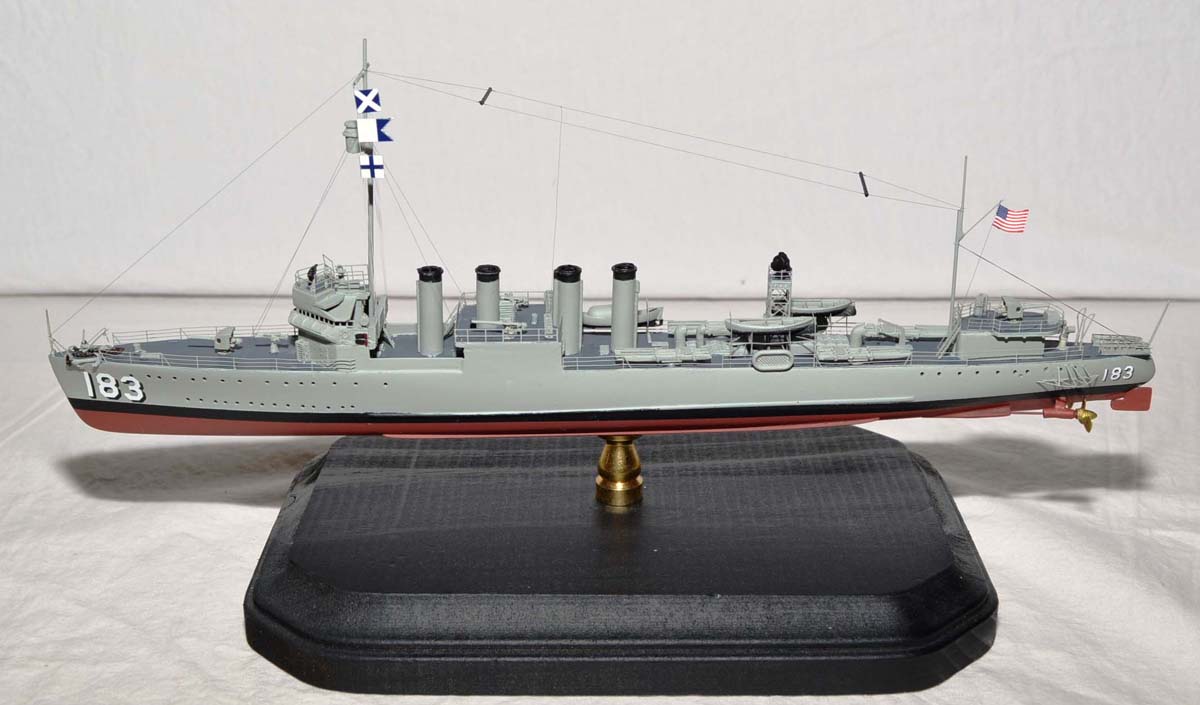 1/350 USS Haraden DD-183 (Iron Shipwright)
Jonathan Haraden was born in Gouchester, Mass., 11 November 1744, and joined the Massachusetts State Navy in July 1776 as First Lieutenant of the sloop Tyrannicide. Sailing with her for 2 years, he captured many prizes, and rose to command her in 1777. In 1778, Haraden left the state navy for a career as a privateersman, commanding General Pickering. He simultaneously engaged three British privateers off New Jersey in October 1779, and captured a 22-gun sloop in the Bay of Biscay. When British privateer Achilles, of three times his force, attempted to recapture his prize a few days later, Haraden fought a fierce action at close quarters for 3 hours, forcing the larger ship to sheer off. Captured briefly by Admiral Rodney in the West Indies in 1781, Haraden escaped and sailed privateer Julius Caesar in 1782. In June of that year fought off two British vessels of equal force at the same time. His health declined steadily after the close of the War for Independence, and he died at Salem, Mass., 23 November 1803.

A Wickes-class destroyer, USS Haraden was the first of two US Navy destroyers named after Haraden. She was originally laid down by Newport News Shipbuilding on March 30 1918, launched July 4 1918 and commissioned June 7 1919. In the post-World War I rush to disarm, she was decommissioned July 27 1922.

With the outbreak of another European war, she was recommissioned on December 4, 1939. Serving for less than a year, she was decommissioned on September 24, 1940, then transferred to the Royal Canadian Navy as part of the Lend-Lease program.

Under the Canadian flag, HMCS Columbia (ex-USS Haradan, DD-183), Columbia manned by the RCN, served until 1944, but the end came when she struck a cliff at Moreton Bay, Newfoundland on 25 February 1944. Towed to St John's, NF, she lay unrepaired until July 1944. Then, minus her damaged bows, she was hulked at Liverpool, NS, as a static fuel and ammunition depot for ships under repair. Paid off from this duty on 12 June 1945, the hulk was sold for scrap 7 August 1945. (History taken from NavSource).

The model started life as the Iron Shipwright USS Ward kit. After drilling out the portholes (the kit had none), I removed the splinter shields around the forward gun mount and on the port and starboard sides of the ship. The main battery and ships boats were replaced with 3D printed parts, while some of the photo-etch - like the boat cradles and depth charge racks - was replaced with parts from White Ensign Models Town class DD set. Painted with Sovereign Models Colorcoats, decals on the hull are from Gold Medal Models. Flags are from the Blue Ridge Model decal set.
---
Gallery updated 12/4/2017


© ModelWarships.com