USS Benson (DD-421), late 1945
by Robert Apfelzweig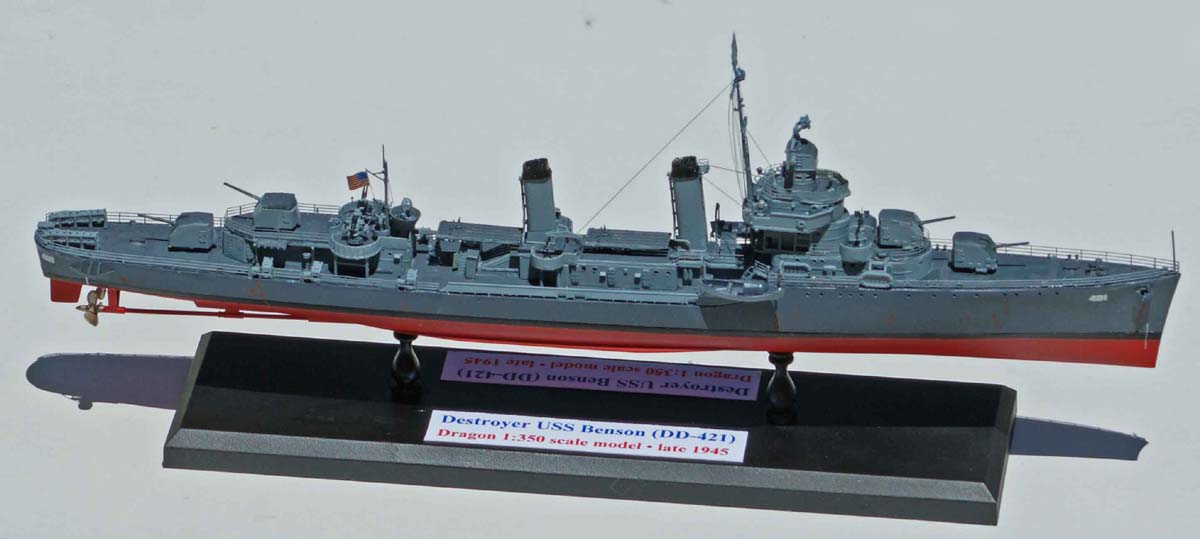 1/350 USS Benson DD-421 (Dragon)
The USS Benson was the first of a class of 10 destroyers built just before America entered World War II. It served in the Atlantic from commissioning until May 1945, when it transferred to the Pacific war theater. I recently became acquainted with an elderly retired professor from Stanford University who, as a young ensign, had served aboard the Benson during the last year of the war; although he never saw any combat, he and his ship did survive a fearsome typhoon in September or October 1945, just after the war had ended. He commissioned me to build a model of the ship on which he had served (it was my first destroyer build in 1:350), and Dragon has produced a beautiful and (mostly) easy to build kit. This model apparently can be made into several different Benson-class destroyers, and there are many spare or extra parts on the sprues that are not used for the Benson itself, though the instruction sheet sometimes illustrates the wrong part or part number and the confusion is increased by the use of two different Q sprues in the same kit. A pair of small photoetch frets are included, providing additional fine parts for watertight doors, ladders, propeller guards, the caging around depth charges, and various light AA parts. I added the 3-bar railing and a suitable radar antenna from my stash of spare photoetch parts, as well as most of the 20 mm Oerlikon components from Master Model. Rigging was from black stretched sprue. I used up the last of my Pollyscale 20B dark blue paint on the decks, a mix of several Tamiya greys for the Haze gray 5H on the vertical superstructure surfaces, and WEM 5N Navy blue for the hull; the lower hull was sprayed with Testor's flat red and the boot topping and funnel tops were Tamiya flat black.
I mentioned that this kit was mostly easy to build; if you follow the order of building recommended in the instructions, the bridge and superstructure components amidships (on which are the funnels and torpedo tubes) are to be fully assembled first and then glued onto the main deck; however, I could not quite fit the central superstructure assembly into its deck position without cutting away a millimeter or so of the forward end, or else I would have crushed the whole thing by forcing it into place right behind the bridge. It would be best to dry-fit these parts before completing them to assure an easier assembly.
The USS Benson, as indicated above, survived the war and was placed in reserve at the Charleston Navy Yard in March 1946, then was transferred to Taiwan in 1954, serving in that country's navy until being taken out of service and scrapped in 1974.

---
Gallery updated 2013


© ModelWarships.com