USS Buchanan
by Timothy Choi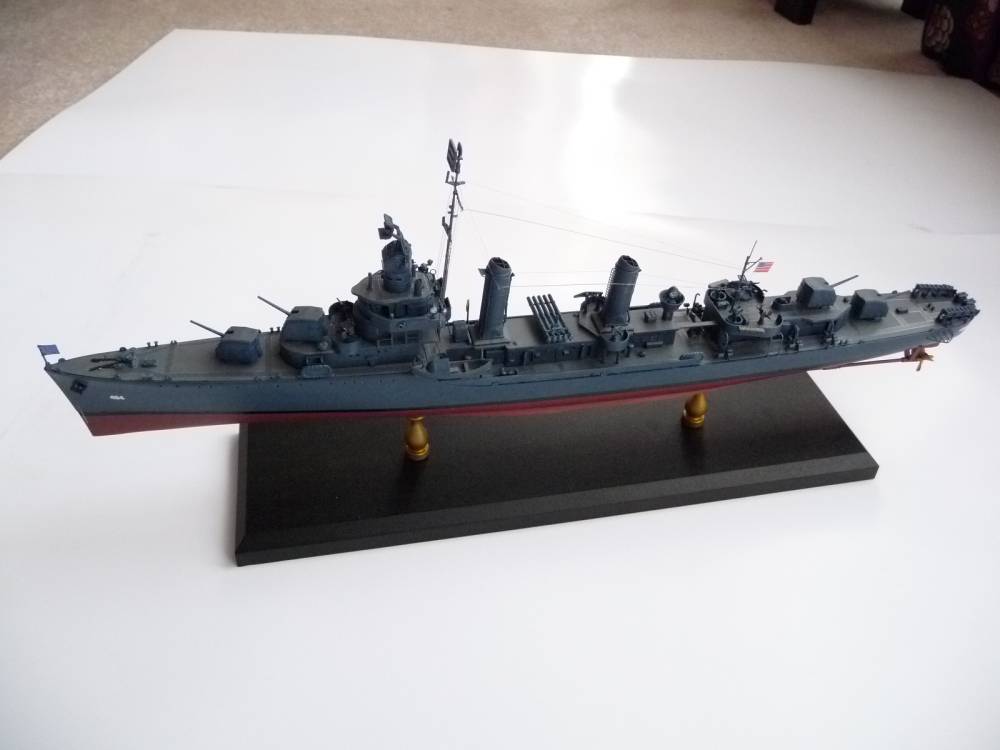 1/350 USS Buchanan DD-484 (Dragon)
First of all, thank you very much to Timothy Dike for sending me this kit! This is Dragon's new Smart Kit of the USS Buchanan (1942) in 1/350th scale, done pretty much straight out of the box. An excellent kit, marred only by some erroneous notations in the instructions and one fit problem between the center superstructure butting against the forward superstructure.
Two main problems in the instructions for future modelers' reference:
Portrays the central superstructure placement indent on the main deck as being full length (as in, the indent makes room for parts B12/2 + B13/14), but the actual part only has the indent for parts B12/2, and has B13/14 slightly shorter in height so that they rest on the deck and not in the deck's indent. Some modelers might mistakenly align B13/14 with B12/2 using the parts' bottom edge, instead of the top edge, which will mess up the fit.
Part A52 should be A53, and vice-versa. Though the instructions say to use A52 for the forward funnel, it should actually be A53, as that is the one with the molded-on pipes and correct alignment of ladder position.
I would also like to suggest to Dragon to not be so stingy with the paper - some steps were printed much too small (the parts for the sky lookout positions, in particular, come to mind). Also, a before/after diagram of subassemblies like the 20mm and 1.1" would be helpful, especially for those less familiar with such weapons.
Minor notes about my build:
I lost one of the kit's 20mm barrel & body, so I scrounged up a spare from my USS Franklin build and cut the barrel off that one and stuck it on the Dragon pedestal. Of course, it was after I was done fixing the shield, gunsight, and arm rests that I then found the original Dragon 20mm...hiding, as usual, in plain sight. So I cut off the Trumpy barrel tip, cut off the Dragon barrel tip, and grafted the thinner Dragon tip to the Trumpeter body. You can see this on the port bridge mount.
I also added a piece of sprue under each of the 5" mounts so that they can rotate without falling off at the slightest bump. Would be nice if Dragon could incorporate this into the kit, as it seems odd that they would go so far as to let one have variable barrel angles but not turret rotation.
Most portholes drilled open.Easier than to try painting them all.
Paints used: Polly Scale 5-N, Gunship Grey, Deck Tan (for floater nets), Italian Camo Brown 2 (for lower hull), Vallejo Gold for the propellors.
I did not do any gloss coating before applying decals, hence the obvious silvering that one can see on the anti-skid pads.
Rigging done using stretched sprue. A rigging diagram would really help to round out the kit ;)
---

© ModelWarships.com