USS Cassin Young DD-793
by Rick Brownlee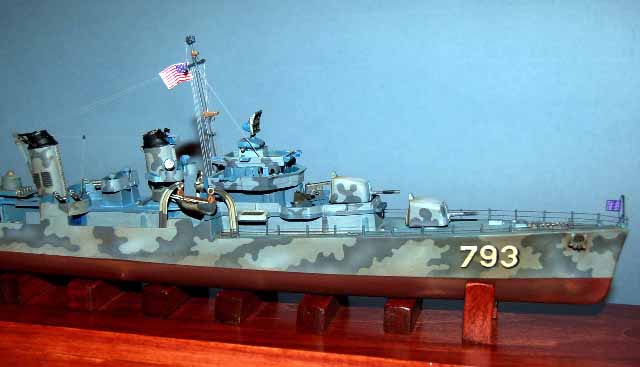 1/309 USS Cassin Young DD-793 (Revell)
It was approximately 1998 when I picked up this re-pop of the old Revell USA Fletcher Class destroyer kit in a local hobby store. I'd been out of the hobby about 10 years and wanted to get back into building models again. And since then, over the years, I have purchased a number of boat and ship models, but just haven't turned my attention to that genré — spending most of my modeling hours doing small dioramas and working with figure painting.
Recently, I've tried to check out this site on a regular basis and have enjoyed looking at other modelers work and reading about their efforts, thus I decided to post this article. At the time this kit was released resin detail sets and photo etched (PE in future) frets were way into the future. And at that point Revell molded the deck hand rails into the hull haves on the main deck. So after gluing the two hull halves together, I used a hot knife to cut off all the hand rails. With putty and a lot of sanding I got the main deck to look somewhat acceptable, or flush. Evergreen plastic rod was used to fashion the vertical posts after using dividers to mark out equal spacing for where I drilled the holes in the deck to receive the vertical posts. Then stretched sprue was used to attach the lines. As I said previously, there was not much available in 1998 for PE sets of hand rails, that are so common today.
The dark gray pattern on the hull sides, main guns and funnels was painted on with a brush by hand and the rigging was stretch sprue again. This time lengths of clear sprue from my spare parts box was used. I never decided for sure if using clear sprue created that illusive "illusion of reality" I was hoping for, in this scale.
In the years that have passed since this model was completed, I feel like my skill level has improved and look at this model and notice a lot of areas where I could have done a lot better; i.e. the vertical post on the hand rails are too large in diameter for that scale.
The base, on which the model rests, was made from bass wood sections and strips, first stained with a coat of wood stain. Then I applied several coats of semi-gloss varnish. I had the USS Cassin Young presentation plate engraved from brass at a trophy and awards company, near by.
---

© ModelWarships.com