USS Sampson DDG-10
by Carl Musselman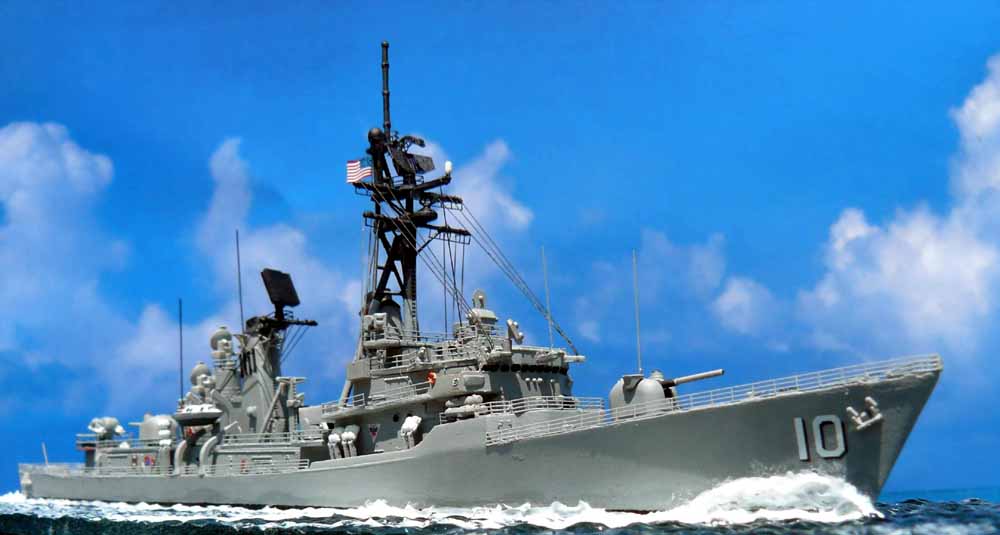 1/700 USS Sampson DDG-10 (DML)
This is my newly completed build of the USS Sampson DDG-10 in her 1991 configuration. I used the 1/700 DRAGON/DML USS Charles F. Adams DDG-2 Premium Edition kit with after market photo-etch.
The kit was missing one piece. The sprue number was there, but the part hadn't been molded. It was the piece that attached to the aft end of the aft stack superstructure. Kind of important. After contacting DRAGON Care, they ordered this piece for me and it came from Hong Kong after about five weeks. Another modeler send a replacement piece, to me, in the mean time so that I could continue with my build. When the part arrived from Hong Kong, I sent it to the other modeler friend.
I chose the USS Sampson because I had mistakenly clipped off the Vertical Replenishment deck wings aft of the #2 5" gun turret. The Sampson was the first one in the NavSource.org collection that I saw without these deck wings.
With the Sampson, I had to modify the foremast and detail the aft mast to depict her 1991 configuration.
I also had to add an enclosed companionway on the port side of the O2 level.
The Sampson had an additional antenna stanchion on the starboard side inboard of the whale boat station. I scratch built this, as well.
The Sampson's aft missile launcher had an additional circular base, which I made out of sheet brass and added high railings around it from 1/350 two-bar railing. I added two protruding doors to the O1 level just forward of the aft missile launcher, as well.
The Sampson did not have a Danforth anchor on the starboard side like other DDG's had. It had two identical double-fluke anchors, so I had to rearrange the anchor chains and anchor hawse pipes to reflect this. I replaced the molded-in chains with photo etched anchor chains.
I made my own DESRON 12 emblem decals (the white, inverted triangles) and mounted them on the port and starboard sides.
I mounted the ship on TAMIYA's "Ocean Effect Plate A" which is great for 1/700 scale water. I spray painted the under side an appropriate color, sometimes dark sea blue or a dark turquoise. I then applied "LIQUITEX" heavy acrylic gel with a syringe between the model and the waves, to fill in that gap. I also used the acrylic gel to build up the bow wave and the stern wake and a few extra higher waves, here and there. I then brushed on acrylic flat white for the wake and waves. I followed this up with a brushed on acrylic clear gloss coat over the entire water base. The water effect plate was super glued to an IMEX acrylic display case base which was then epoxy glued to a prepared oak base.
---

© ModelWarships.com